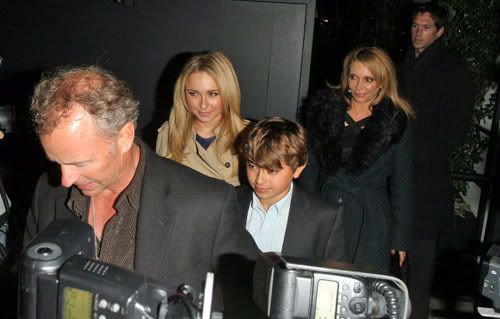 Yesterday, we reported on a domestic abuse call and arrest occurring between the parents of "Heroes" actress Hayden Panettiere. According to TMZ, who spoke with the arresting officers, Alan Panettiere struck his wife in the face three times with a closed fist, and Lesley Panettiere herself called the police, who arrested Alan. Now that he's out on bail, both Alan and Lesley have been talking to Extra's Mario Lopez (gag) and insist that nothing happened. They say there was no incident, and that not only did Lesley not call the cops, but didn't know her husband was arrested. Huh?
Lesley and Alan told Mario Lopez, "Nothing actually happened." Explained Mario, "In fact, Lesley wasn't even aware that Skip had been arrested. Hayden found out about her dad's arrest when he called her from jail. They love each other very much and want everyone to know that the matter was completely blown out of proportion."

Alan was busted at their home for allegedly hitting Lesley on the cheek and leaving a visible mark. It's been reported that they had quarreled earlier in the evening at an event at Eva Longoria's restaurant, Beso.
If nothing happened, then why did the cops arrest Alan? Why was there a police report? Why were there "visible marks" that warranted the police to take photos? I may not be an expert but I do know that marks don't just appear magically on someone's face. I really hope that Lesley Panettiere isn't dropping the charges out of fear, or because she doesn't want to harm her daughter's career. Unfortunately, that happens all too often in domestic abuse cases. The batterer swears he'll never do it again, it was just this one time, etc. I hope the police put Lesley in touch with a support group or counselor- because if he gets away with it once, he'll do it again. Count on it.
Also, Mario Lopez is an idiot.
Hayden Panettiere, her mom, dad, and brother, Jansen, are shown at STK on 2/14/08. Credit: GABO/DEAN/JRI/BAUERGRIFFINONLINE