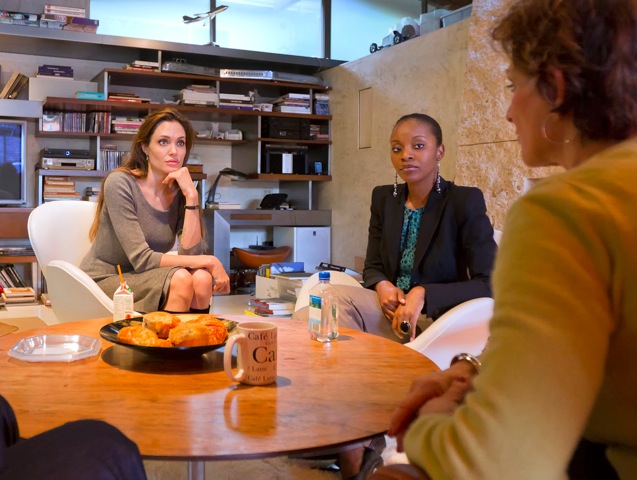 Angelina Jolie has been working with the international SOS Children's Village program for years – I think she personally sponsors one of the villages in Jordan, maybe? I'm too lazy to look it up, but I know she's done a lot of work with the organization, and the program is very proud to have Angelina as one of their sponsors. Well, it looks like Angelina and Brad have done more than simply donate to and visit SOS Children's Villages around the world – they also set up a fellowship for potential law school graduates who have grown up in a Village. SOS Children's Villages just sent us this press release announcing the first Jolie Legal Fellow, Nathalie Nozile, a Haitian who is a recent graduate of the University of Florida's College of Law. Nozile grew up in a Village. Amazing.
Washington, D.C. (January 12, 2011): SOS Children's Villages, a global organization dedicated to providing family-based services for children without parental care, today announced that Nathalie Nozile, an alumna of the SOS Children's Villages in Santo, Haiti, has been selected as the first Jolie Legal Fellow. Ms. Nozile was selected after graduating from the University of Florida's Levin College of Law this past spring. The Jolie Legal Fellowship, created and funded by the Jolie-Pitt Foundation, supports the Government of Haiti's ongoing efforts to strengthen the Haitian judicial system in the challenging post-earthquake environment. Jolie Legal Fellows are attorneys who will concentrate on the protection of Haiti's most vulnerable children in the judicial system, by serving as special assistants to key Government of Haiti officials. Ms. Nozile leaves for Haiti later this month to begin her work.

"I am thrilled that Nathalie Nozile will be our first legal fellow in Haiti – where the need to enhance child protection is so great," said Angelina Jolie. "Nathalie has a heartfelt commitment to improve conditions in her homeland, and brings to her work the unique perspective of growing up in an SOS Village. There, she learned firsthand the importance to a childhood of a stable and nurturing environment. Now, as a promising attorney, she will draw on her personal experience as she returns to help strengthen the Haitian judicial system. Nathalie will be working to help ensure equal access to justice and the protection of children's rights in Haiti."

Dr. Heather Paul, CEO of SOS Children's Villages – USA, added: "The Jolie-Pitt Foundation has been a long time supporter of SOS Children's Villages worldwide. Nathalie is an excellent example of SOS youths who are educated and imbued with a sense of responsibility to give back to their community and their country. We are so proud that a former SOS child will work within the Haitian judicial system with an eye to protecting those who are most vulnerable. Nathalie's devotion to her country and demonstrated willingness to support its justice system echoes Ms. Jolie's long-term commitment to ensuring legal equality and protecting the rights of children in Haiti and across the globe."

Ms. Nozile, who made it a priority to volunteer in Haiti in the aftermath of the earthquake in the SOS Office of Emergency Programs, expressed her gratitude for this opportunity: "It is a great privilege and honor to become the first Jolie Legal Fellow. I made a decision to obtain a law degree long ago so that I could return to Haiti to serve my country, now in such a critical state. I hope my commitment will inspire more young professionals to return to Haiti, because Haiti needs us all."

Ms. Jolie concluded: "Nathalie Nozile is a force…just wait and see. She will be doing many great things. She represents the best of Haiti. She is an extraordinary example. I am proud to know her and extremely grateful to have the opportunity to work with her."

SOS Children's Villages has had a presence in Haiti for over 30 years. In its Children's Villages in Santo and Cap Haitien, SOS is raising nearly 700 children who would otherwise be without parental care. Its Santo school, located near Port-au-Prince, now educates over 900 children who attend classes in two shifts. SOS is also providing emergency food supplies to 14,000 Haitians daily and will begin construction of a third Haitian Children's Village in Les Cayes later in 2011.

About SOS Children's Villages: For 60 years, SOS Children's Villages has been providing family-based care for children without parental care and social services for families at risk. Through their Children's Villages, Family Strengthening Programs, and other initiatives, SOS impacts the lives of over 1 million people each year. In 2009, SOS Children's Villages received the Save the World Award. SOS has also received numerous honors including the Mother Teresa Gold Medal, the Conrad N. Hilton Humanitarian Prize, and the Vietnam Friendship Medal. For more information about SOS Children's Villages, visit www.sos-usa.org.
[From SOS Children's Village press release]
That really is awesome that a fellowship was set up through the Jolie-Pitt Foundation so that this extraordinary young woman could return home and help her countrymen. I'm getting a little misty. Gah! It must be dusty in here.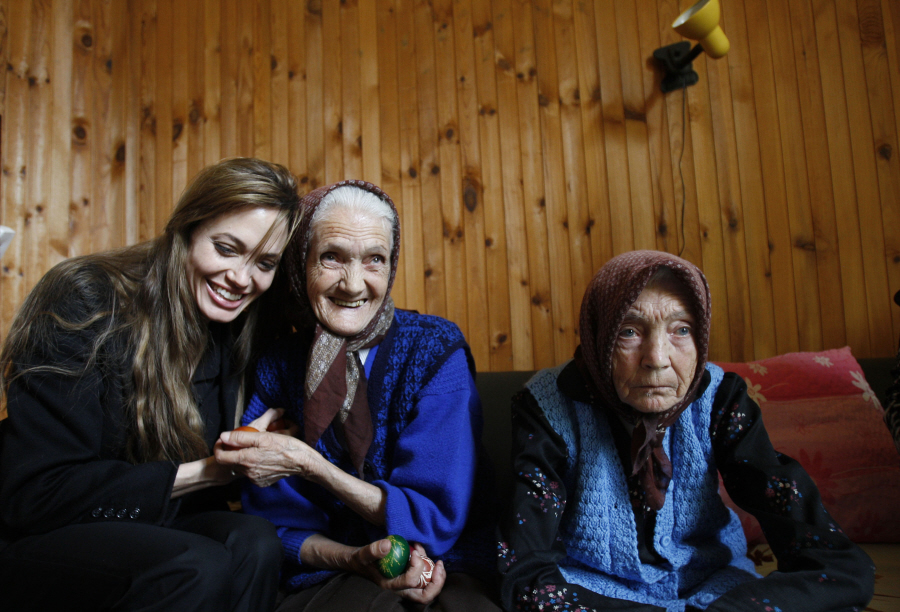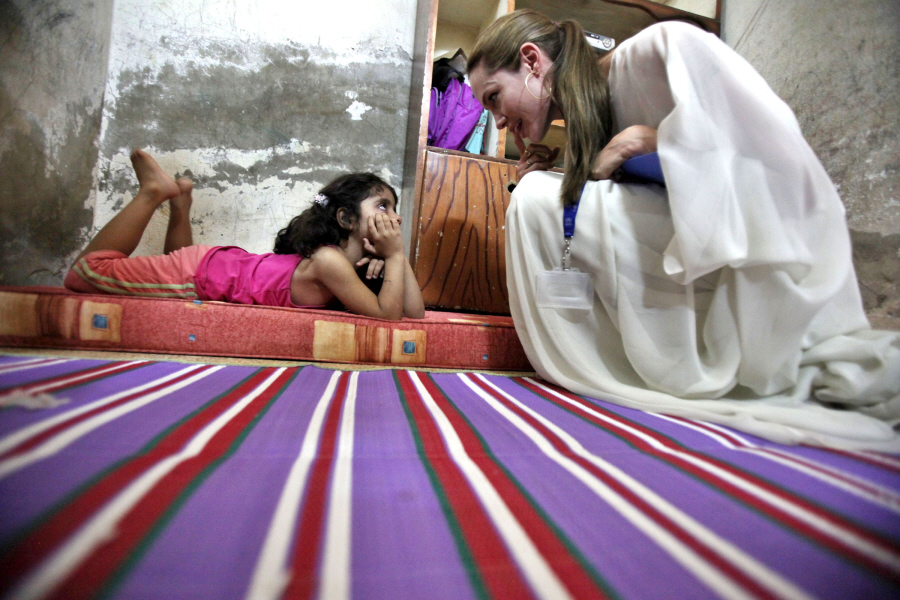 Header photo courtesy of Chris Polk/Getty Images and SOS Children's Village. Additional photos of Jolie during UNHCR activities, courtesy of WENN.