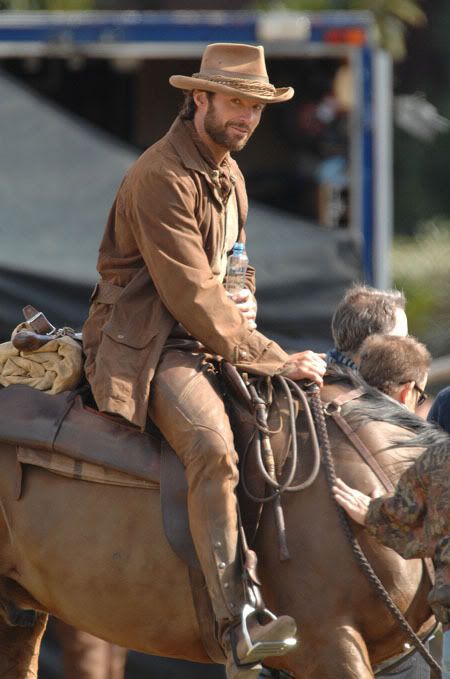 Hugh Jackman is buff and hot and witty, and, according to Mike Walker in the National Enquirer, acted like a real-life superhero while promoting his superhero alter-ego Wolverine at Comic-Con in San Diego recently.
Enquirer reports that Hugh saw two female fans in the parking lot dressed as X-Men characters Magma and Storm. To his surprise, the woman playing Magma then set her arm on fire. The stunt went awry because "Storm" wasn't able to douse the flames fast enough, and "Magma's" hair caught on fire.
Moving like a real superhero, Jackman swiftly yanked her costume's cape over her head, smothering the flames as he yelled for security.
[From National Enquirer, print edition, August 18, 2008]
Medics treated the woman, who luckily only received superficial scalp and head wounds.
Unless I see video or phone-cam pictures or at least a fan's blog report on this, it sounds like fiction, but it's still better than the plot of X-Men 3.
Not that I doubt Hugh could pull this off. Anyone capable of believably portraying both Wolverine and Peter Allen can certainly put out a flaming fan-girl in his down time.
Hugh Jackman's next film role is in Australia, opposite new mom Nicole Kidman. X-Men Origins: Wolverine opens May 1, 2009.
Note by Celebitchy: Since this is alleged to have taken place at Comic-con, which I would venture to guess is filled with tech-savvy people who would be eager to spread the news of such a fantastic story, I doubt it's true. Mike Walker's column in the Enquirer is the only place I've seen this news at all and google searches turn up nothing. Here's a video of Jackman on stage at Comic-con and when they pan to the audience about every third person is taping with a video recorder or their cell phone. This is alleged to have taken place in the parking lot, but wouldn't we have heard of it already?
Either way, Jackman is a hero to me. Watching that video of him speaking to the audience at Comic-con, he is super grateful to his fans. Plus he has that cute accent.
Hugh Jackman is shown filming Australia on 8/11/08. Credit: ICON/Fame Pictures