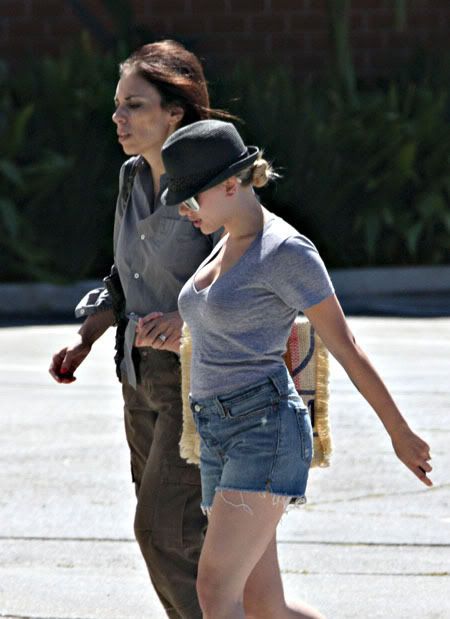 Scarlett out with her mom, Melanie Sloan, in Beverly Hills on 8/10/08. Credit: Fame Pictures
Scarlett Johansson has a new interview in UK's Hello! and she comes across as pretty fun and down to earth. We've had some debate here over whether we have too high expectations for celebrities. [thanks czarina] It's like we expect them to look gorgeous, act well, and give witty and intelligent interviews and are let down when they only score on two out of three counts. 23 year-old Johansson definitely gives a good interview, though, and I found myself smiling at some of her answers. She still thinks she can sing so we know she's not perfect at least:
What do you think of this whole debate about sexy vs. beautiful? How do you see yourself?
"Beauty is something you recognize in someone. I mean, you put on an outfit or whatever and you think, 'Hey, I feel sexy'. But I think that it's rare that you feel beautiful. I never really look at myself in the mirror and say, 'I look really beautiful.' I look at myself in the mirror and say, 'Yeah! I look hot.'

"When you're looking at yourself you see all your flaws and you think of them as being unattractive. But when you look at someone else, it's the flaws that make them so beautiful."
[From Hello! Magazine, print edition, August 19, 2008]
Johansson lost me when she started talking about flaws making people beautiful, that seems a little contrived, but I agree with her that you don't consider yourself beautiful. You can feel sexy if you look good though.
Scarlet expresses gratitude for her success and realizes that she's had it really easy compared to some of her friends in the business.
Do you consider yourself lucky?
"Damn lucky. [Smiles.] I certainly know that I have a chance that's one in a million and a job that's sort of disposable, and I feel lucky that I haven't been found out.

"I constantly recognise my incredible luck and am reminded of it every day when I talk to friends who said that they waited three hours for a casting call and they got to the door and it was shut in their face… I was in the right place at the right time.

Does your success overwhelm you at times?
"No. My head is screwed on pretty good and I just take it as it comes, I suppose.

"I think it depends on where you come from and what kind of family you come from."

How do you cope with it and stay so down-to-earth?
"I don't know. Thank you for saying I'm down-to-earth because you really don't know me. I could be just a total prissy loser. [Laughs.] But, you know, I guess I don't adjust. That's probably why I stay the same. [Laughs.]

Do you think that acting is harder for a woman?
"Oh, definitely. I mean, that's a given. Women kind of wilt as men sort of achieve as they get older, like wine or whatever. It's like, 'Oh, she's past her prime and she can't play a sex symbol'… It's just a preconceived notion about women in general and particularly in this industry. It's a very vain, vain industry."
[From Hello! Magazine, print edition, August 19, 2008]
Scarlett also says she hasn't "even thought about" her wedding to her fiance, Ryan Reynolds yet. There are rumors that these two are having trouble because they haven't been seen out together much lately, but they were just photographed kissing earlier in the week. They're probably just a very private couple.
As we mentioned, Scarlett may be cool as hell but she's not without her flaws. Her first album, a set of Tom Waits covers called Anywhere I Lay My Head, had a lukewarm reception, with many critics saying she can't really sing. She says she "would love to do another album" when asked about it. She also has praise for the people she worked with and that "it was fantastic to not only live with that music I love every day, but to work with such wonderful musicians." Scarlett adds that she would "like to focus on something to direct" next and that she first got the urge while making The Horse Whisperer at the age of 13.
The world is wide open for Scarlett, but maybe she should just focus on acting and not put out another CD. If there's anything that could burst her well-deserved bubble I would have to say it's her voice.