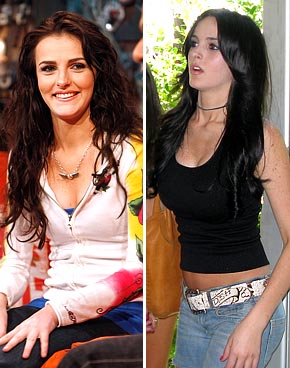 Credit: US Weekly
US Weekly has side by side comparison photos of Ali Lohan, and she looks to have grown boobs overnight. She's possibly using those chicken cutlet inserts to enhance her natural assets, but the girl is 14 years old. If she did stuff her bra to achieve this look, it's a much better alternative than surgery at her age, but neither is appropriate.
Ali denied a rumored nose job, and she'll probably say she didn't have anything done to her chest, either. Her sister Lindsay is widely believed to have had a boob job at 17, which she is though to have had reduced. Ali says she wants to be just like Lindsay and that she wants to be famous. Her mom, Dina, claims she's just helping her daughter fulfill her dream to be a singer, that she's not a "stage mother" and isn't pushing her into show business.
You can see Dina allowing Ali to get a boob job at that age and claiming she's just helping her daughter with her career. Girls' bodies change a lot at 14 and it's possible Ali just got curvier along with wearing a bra or inserts that add a cup size or two. I'm voting for chicken cutlet inserts because it would be too creepy if she had breast augmentation at 14. Wait for the Lohans to deny this in their gravelly hysterical-sounding voices and act like it's everyone else's problem that people are pointing out how age-inappropriate Ali looks.