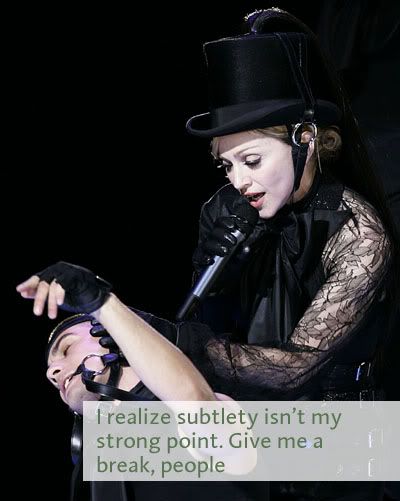 Madonna knows what she's good at, and now she plans to stick to it. The super-fit geriatric Jewish queen of pop can't act for shit and she's finally admitted it:
MADONNA has begrudgingly turned her back on her movie career, because she is convinced the media is hell bent on ensuring her film projects are flops. The LIKE A VIRGIN singer was lauded for her performance in the big screen adaptation of the musical EVITA, but she has suffered a string of flops, most notably BODY OF EVIDENCE and SWEPT AWAY, her last movie role directed by husband GUY RITCHIE, which failed to secure a cinema release. And the 47-year-old, who is currently in the midst of her Confessions world tour, will concentrate solely on her music career from now on. She says, "I hate to admit it, but I've decided to give [acting] up. "How can any film survive if everyone says it's going to be a flop from the very day the project is even conceived? "It's already dead in the water."
By saying it's already "dead in the water," she may have been making a sneaky reference to that terrible film that doomed her husband's career, "Swept Away." People say her films suck not because she's in them, but because they've actually seen them and she can't act. Her acting is wooden and forced, and that's smart of her to stick with what she knows – writhing around on stage and pissing off the Christians.
Here's Madonna in concert in Rome on August 6th. Looks like the pope missed a fabulous show. [via]