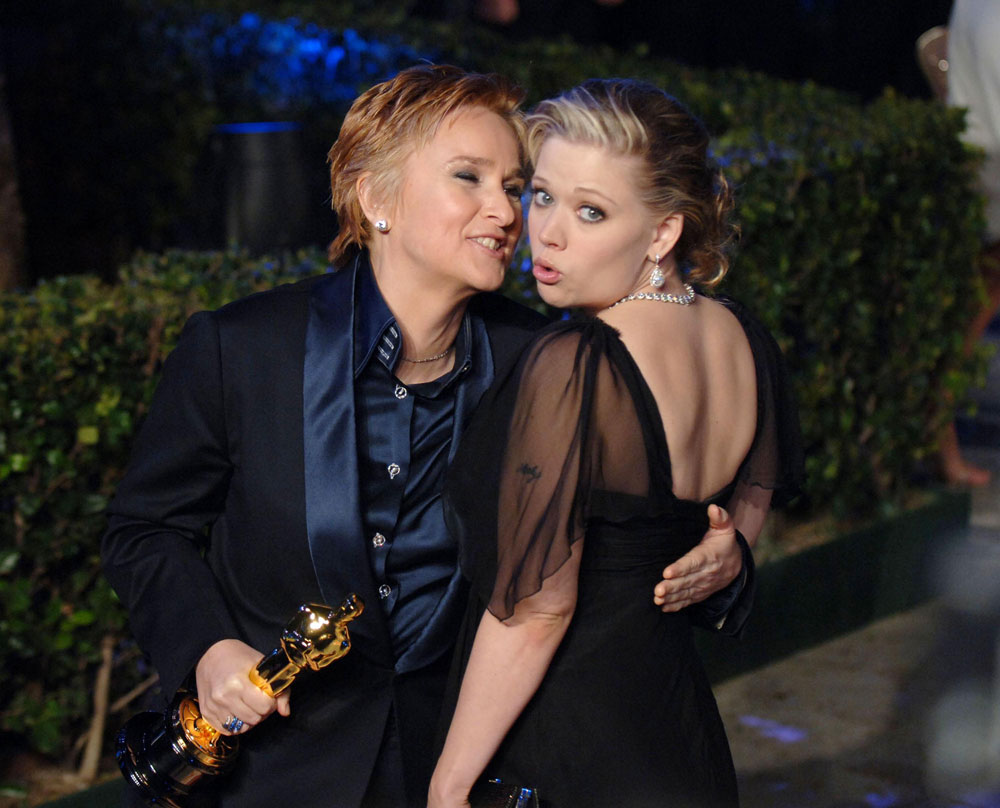 A "source" close to Melissa Etheridge recently confirmed a scoop by the Enquirer that Etheridge has been dating longterm family friend, Linda Wallem, who served as the best woman at her 2003 commitment ceremony with now-ex, Tammy Lynn Michaels. Michaels and Etheridge have four year old twins together, and Michaels has claimed that Etheridge left her with little money and no clear explanation for why she was leaving. Now that the news is out, People is reporting that Melissa and this Linda woman, who created the show Nurse Jackie, got together three months after Tammy and Melissa split up. Only Tammy, in her roundabout way, is disputing those claims and suggesting that Melissa cheated. She also adds that she's known about it for a while, that one of her kids told her, and that Melissa accidentally had a box of dildos delivered to her house. Maybe it was meant as a gift. Here's some of what she wrote on her blog, and I've translated some of it it. (My words are in bold.)
Melissa didn't break up with her and just said she wanted a break
i moved out november 23rd 2009
she said it would help
i was convinced it would
too and i trusted there was
no one else
i didn't know
there was someone moving in
as i was moving out

Melissa's assistant delivered some vibrators to Tammy by mistake
three weeks later a box of new toys
was delivered and her assistant brought
it to my rental house as a mistake
i opened it
and that's when i felt something was up

i called her
"i have your new dicks on my kitchen counter?"

one thing by one thing
i slowly felt things were not
as
they were being represented

one never even said one was breaking up with me
one only says things in song and string

Tammy figured out Melissa broke up with her by listening to her new CD
and then i listened to the album
and i understood
oh
you don't want to work it out
oh you already have someone in the wings
oh you already have pined for another
oh you are done here

oh i have become another one of your exes

oh i have become an album

On how she got cheated on
so. you know. people magazine tries to get things right. they try to
clean things up for the famous folk- their sources are usually the publicist
for the celebrity. i'm here to clarify. well… i want to clarify without
dealing with getting sued for SLANDER (and paying someone), which would include
me saying that the two were involved while I was living there (it is still my house, by the way).
and i haven't gone just that far yet.

since april of 09? mmm…. one of my little sweet peas told me otherwise much
earlier than that, Pooper magazine.

they should have shut the bedroom door.

and once again… if we're going to have little "leaks" and such… let's make them truthful?

perhaps folks out there are going to start doing math. "speak true and spread the peace" of 2010
i kept this to myself last summer. maybe i shouldnt have- it would have explained another reason
why there was so much bitterness in my cray-cray crazy blogs. i couldn't believe someone would have a
saying, and motto to ask people to buy and live by, but not oneself?

spread the peace? speak true.
[From Tammy Lynn Michaels blog]
I can write more coherent e-mails on an iPod. I hope she was using a Blackberry keyboard to compose that. Ok, I get it, Tammy got royally screwed, and because she wasn't legally married to Melissa it was worse for her. I'll repeat what I've said about Tammy before – this is only making her look petty. I've had people bash me for saying she should keep it to herself or get an editor, and maybe my problem is her writing style. Before responding and telling me I'm wrong and she has every right to get her side of the story out – which I'm not disputing – please read her entire post on her blog. She goes on about it, and I personally find it annoying to read through all that drama and try and figure out what she means. What purpose does it serve to spill the detail that she got delivered some vibrators meant for Melissa?
The facts definitely make Tammy out to be the wronged party, though – she nursed Melissa through cancer, gave up her career to raise their children, and then got pushed aside while Melissa took up with her former best friend. I felt more sympathy for Tammy before she chimed in to say "I would have told you so," and "Oh, Melissa's dildos got delivered to my house." What's more is that Tammy has to let everyone know that she's got a new girlfriend too. What's next for her – a reality show? It's not like she's going to be able to write a book without a ghostwriter.
These photos are from 2007 (above) and 2005 (below). Credit: WENN.com