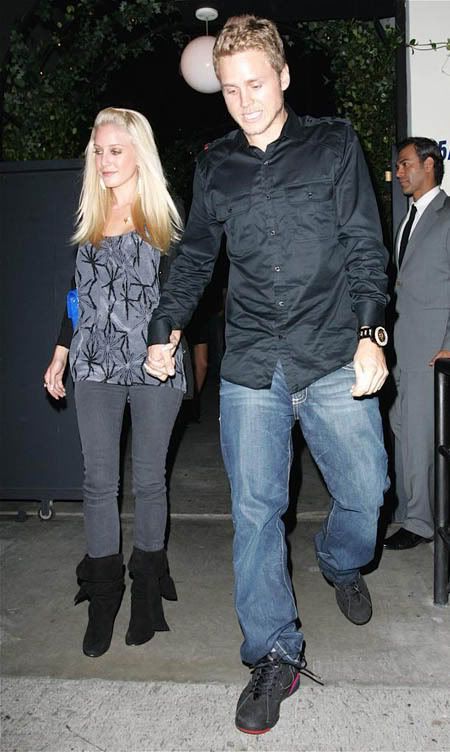 Heidi Montag. Ew. Spencer Pratt. Double ew. I really don't even need to write the rest of this story. I can pretty much just mix up the following words in a semi-coherent jumble and it'll apply to absolutely anything Heidi Montag and Spencer Pratt ever do: horses, over-exposed, fashion, beaches, John McCain, photo op, reality television, cheesy grin, narcissism, pimping, self-centered, sex tape, entitlement, video, chiclet teeth, handbags, undeserved, flowing hair, guns, designer, money, attention whores, feuds, faux, gross, bad music. That's really all you need to write about Heidi and Spencer.
And today in empty Speidi news, the pair say they want to adopt, a la Brangelina. And they're a little frustrated that John McCain isn't thinking about them as much as they'd like, but everything considered they're being pretty gracious about the snub.
Spencer Pratt and Heidi Montag may have called off their engagement, but the reality-star lovebirds are still talking babies. They're looking to Angelina Jolie and Brad Pitt for inspiration. "I think I'd rather adopt than have kids," Pratt said when I caught up with the two this morning. "There are so many kids that need homes." A few minutes later, Pratt, 25, clarified that he doesn't just want to adopt. "I wanna do both," he explained. "We'll pull an Angelina and Brad and have a whole clan."

Montag, 21, cooed, "We'd be so lucky to have a clan like that." And yes, that clan could include a child from Africa… "I used to want to be a missionary [in Africa]," Montag says. "That's something I've always really wanted to do. Go to the U.N. for World Hunger and really, you know, not just go there for a safari, but go there to actually help."

Although they're not attending the Republican National Convention next month, they're still hoping to do some campaigning for John McCain before Election Day. And speaking of McCain, whatever happened to their much-publicized plan—with the help of the presidential hopeful's team—to visit the troops in Iraq?

"I don't know what's going on," Pratt says. "I think they're so focused on the campaign, they kinda lost the momentum."
[From E! News]
F'ing John McCain losing his momentum. What a jerk. Focusing on trying to become the next president of the United States instead of helping some Q-list reality "stars" (and I use that word as loosely as possible) fly to Iraq on the taxpayer's dime wearing specially made (and adorably matching) faux-combat suits. Okay I realize they didn't say that. But it was implied.
Heidi also talked to E! about her new single "Overdosing" and how it's just about being in love with Spencer and overdosing on all the happiness. And then little bubblegum hearts floated out of Montag's mouth when she hiccuped on all the love flowing through her. Seriously I can't take any more of this nauseating crap. But I will let you listen to the song. Because music shouldn't be punished.
Here's Heidi and Spencer leaving STK restaurant after having dinner with their families on August 9th. Images thanks to WENN.
Note by Celebitchy: If all this wasn't enough from these two, and I reached the saturation point for them months ago, they're planning to get married on live TV.