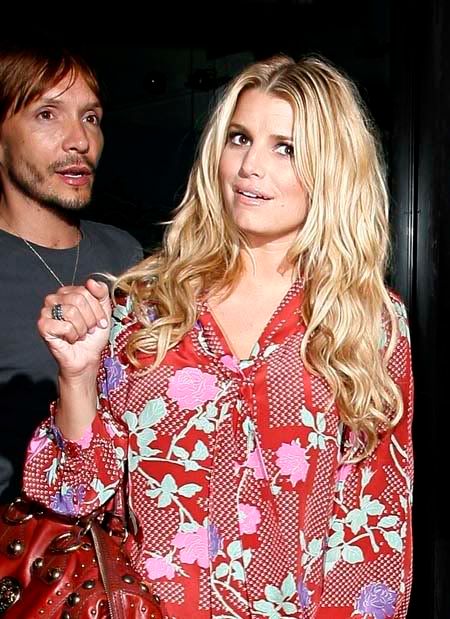 Jessica Simpson has been sued twice for failing to represent brands she was contractually obligated to. In April, 2006, a clothing company filed suit against her for $100 million for not wearing the JS by Jessica Simpson jeans they paid her millions to endorse and for naming another brand when asked what her favorite denim brands were. In February of this year, a fitness DVD company sued for father for breach of contract for blocking the release of an exercise video they paid Jessica to star in.
Jessica's latest endorsement deal is with a Dallas beer company called Stampede. She'll be promoting their light beer. Maybe she'll remember to not drink other beers in public since she's has a 15% share of the company:
Ms. Simpson will serve as a spokeswoman and appear in ads in stores for Stampede Light Plus, which is made by Dallas' Stampede Brewing Co.

But she won't be just another pretty face: Ms. Simpson is taking a 15 percent stake in the brewer. Terms of the transaction were not disclosed.

"She's the face of the brand now," said Lawrence Schwartz, Stampede's president and chief executive, who says sales have more than doubled in the past year.

Stampede's marketing is focused on its vitamin content, which it describes as "functional additives."

"As an entrepreneur, I am always looking for ways to diversify my portfolio with good ideas and good people," Ms. Simpson said in a statement. "Yes, I work out and take care of myself, but I also like a cold beer once in a while."
[From Dallas Morning News via Us Weekly]
Jessica Simpson is now a country singer and a beer spokeswoman and she's dating a quarterback who plays for the Dallas Cowboys. It seems like she's going back to her roots – or maybe she's digging to find something she can really succeed at. Her clothing and shoe lines are doing pretty well, though.
Jessica Simpson is shown out at Mr. Chow on 8/11/08 with her friend and hairdresser, Ken Paves. Credit: PRJ/Fame Pictures