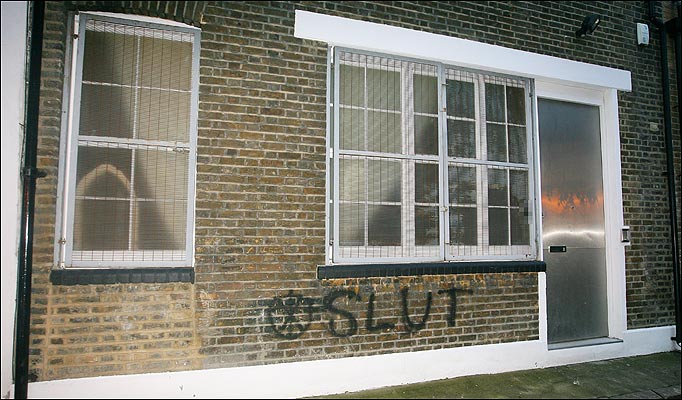 Who could ever have imagined that there are some people out there who seriously hate Sienna Miller? I know, I find it confounding too. What is there to dislike about the girl? She seems kind. Normal. Self-aware. She just really comes across like the kind of person who's genuinely concerned for the needs of others, and always working on self-improvement.
Sienna's London home has been vandalized with the word "slut" written in huge capital letters, along with some satanic looking symbol.
SIENNA MILLER's London house has been attacked by yobs.

An exterior wall of Sienna's home in North London was daubed, in capitals, with the word 'SLUT'.

The black spray-painted graffiti also included an unsettling circular symbol – which looks like an attempt to recreate the sign for Satan.

The actress has attracted controversy for her relationship with married man BALTHAZAR GETTY.

However Sienna maintains that he split from his wife before they got together.

The clumsily written graffiti materialised despite the apparent presence of security lights and a burglar alarm system on the outside of the building.
[From The Sun]
My first thought when I saw this picture was "Who knew Perez Hilton was in London?" Perez is (I believe) the one who originally started calling Sienna "Sluttyiena" Miller and writing "slutty" all over her pictures in cheap Microsoft Paint scrawl. And that's definitely one of his kinder, less bodily-fluid-based things he's doodled on her photos. I'd totally forgotten about the whole "now everyone hates Sienna because of the whole Balthazar Getty thing. That only leaves 2,394,382,282 likely suspects. The cops will get 'em in no time, I'm sure.