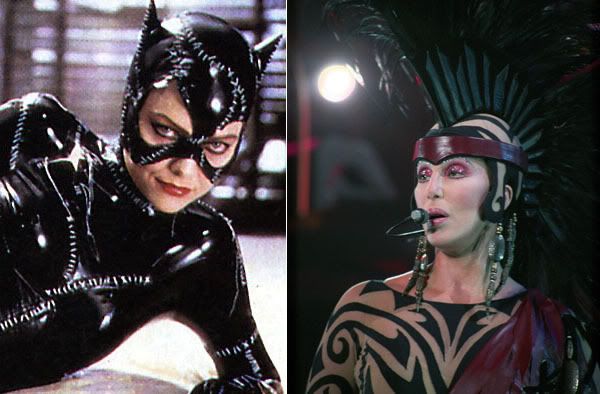 Normally I would dismiss this rumor as just another creative casting idea by a tabloid, but British paper The Telegraph is reporting that the actress wanted to play catwoman in the next Batman installment is Cher! The 62 year-old singer would continue the trend of darker, scarier villians and would be a menacing catwoman instead of the sexpot catwoman we're used to:
[Cher] will join a cast that includes Johnny Depp as The Riddler as she plays the whip-carrying burglar. The character has also been played by Michelle Pfeiffer and Halle Berry.

A studio executive said: "Cher is Nolan's first choice to play Catwoman. He wants to her to portray her like a vamp in her twilight years.

"The new Catwoman will be the absolute opposite of Michelle Pfeiffer and Halle Berry's purring creations."

Filming of the new Batman instalment, provisionally entitled The Caped Crusader, is due to begin in Vancouver early next year.

The Dark Knight, this summer's blockbuster, has become the most successful of the Batman movies. Warner Bros expects the film to make about $530m.
[From Telegraph.co.uk]
Cher is a decent actress and she could pull this off well. She won a Best Actress Oscar for her 1987 film Moonstruck, and she's shined in films like Mask and Mermaids. She's probably not getting as many roles lately because she's older and the parts dry up for older women. It's a great idea to cast her as catwoman and I can see her being a very convincing villianess.
The last we heard of Cher she was romancing a guy 24 years her junior, a 38 year-old biker who climbed Everest on his second attempt. She's said to be planning to marry him in a Vegas ceremony around the end of the year.
Cher is shown performing in her Living Proof tour on 6/26/02. Credit: Tom Walck / PR Photos