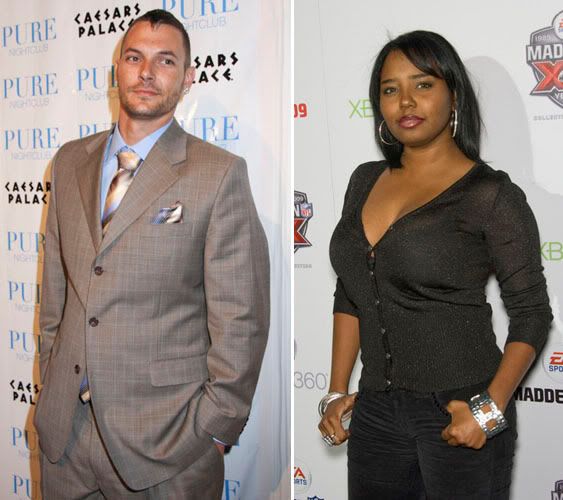 Kevin Federline was spotted partying in Las Vegas over the weekend with his first baby mama, actress Shar Jackson. Shar was in Vegas celebrating her birthday with family and friends and invited K-Fed along, knowing his affinity for the city. Though the pair was photographed hugging, Shar was quick to explain that the two are friends only.
Among Shar Jackson's guest list for her 32nd birthday party: family, friends and Kevin Federline.

The father of four – including two children with Jackson – was at Las Vegas's Blush Nightclub on Friday helping his ex celebrate, and even giving her a birthday hug.

"We were friends before we were a couple and we're always going to be friends," Jackson told PEOPLE at Wynn Las Vegas before entering the party. "We have two amazing kids together. Kevin is my boy."

She's not kidding. Their reunion came only a few hours after the two hung out together in a VIP cabana at Tao Beach with friends and family.

Jackson, however, insists that there is no talk of rekindling the flame. "We have passed that stage."

Jackson's party was the first stop for Federline in night that saw him dropping by newly opened Lavo, Tao and Prive Las Vegas, where Jackson also joined him.

After seeing each other for the third time in 12 hours, Federline took a break from partying at a table in the club's kitchen, then headed to the deejay booth to publicly wish Jackson a happy birthday into a microphone.

While rumors persist that Federline's other ex, Britney Spears, may be planning a performance at the MTV Video Music Awards next month, she has a backer in Jackson.

"I hope she does it, I hope she goes for it and kills it," Jackson said.
Meanwhile, the National Enquirer reports that K-Fed's other ex, Britney Spears, is livid over photos of Shar and Kevin hanging out.
ENQUIRER exclusively reports Britney Spears was furious when she discovered her ex K-Fed out partying with his ex!

K-Fed and former GF Shar Jackson – mom of his two oldest kids – hit the Madden 09 video game launch party while Brit was stuck at home, caring for 2-year-old son Sean's ear infection.

Kevin, who has custody of his and Britney's two boys, agreed to send the boys for an overnight visitation after she promised she could take good care of the boys, give Sean his medication on time and take his temperature, a source told The ENQUIRER.

Although Britney knew Kevin planned to go to the vid game kickoff, when she discovered he was with Shar, she went ballistic!

Brit called K-Fed repeatedly while at the party, leaving him panicky messages. She told him that she didn't remember what meds Sean had to take and that he was whining constantly for dada.

"Britney was even asking how to work the thermometer to take his temperature," the source revealed.

Kevin first called the bodyguard who accompanies the boys when they go to Britney's, and then he called Britney's father, Jamie, to check on Sean. Both Jamie and the bodyguard assured Kevin his son was fine.

"When Kevin wouldn't take her calls, Britney started text-messaging him and kept texting him for much of the night," said the source.

What Britney finds most infuriating is that Kevin lets Shar spend "her money" – the court-ordered $20,000 Brit shells out to Kevin each month in child support.
I'm going to ignore that story because I'd like to think that Britney has moved past all that stuff these days. Plus, as it says in the story, Britney's dad was on hand to make sure the kids were supervised.
I have to give Shar credit for maintaining a positive relationship with K-Fed even after he publicly humiliated her by running off with Britney Spears while she was pregnant with their second child. It seems like her ability to move beyond that incident has benefited their children. Maybe there is hope that K-Fed and Britney will be able to co-parent this successfully.
Shar Jackson is shown at the "Madden NFL 09" premiere on 8/7/08. Credit: Chris Hatcher / PR Photos K-Fed is shown at his 30th birthday on 3/21/2008. Credit: PRN / PR Photos