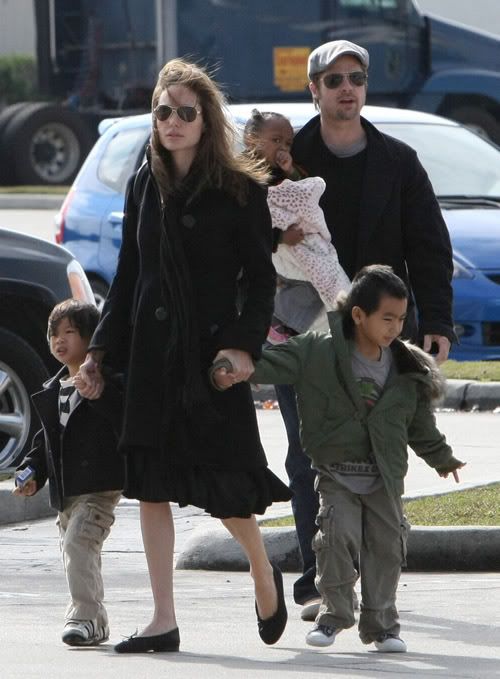 Brad, Angelina, Maddox, Zahara and Pax out in New Orleans on 12/26/07 to see a movie. Credit: Fame
In Angelina's Vanity Fair interview ahead of the birth of her twins, she said she had help with the kids but it was during the day and no one stayed overnight. She called the helpers "ladies who work with us," and said there was a Vietnamese teacher, a woman from Belgium "of Congolese descent," and an art teacher from America. The article came out in late May, and the news had just been released that Brad and Angelina were moving to that huge estate in France. They were staying at Microsoft co-founder Paul Allen's French villa around that time. It seemed logistically impossible to me that they would have three women available to them everywhere they moved who did not stay overnight. German celebrity magazine Gala printed an article after the birth of the twins that they were looking for a nanny. Some of the tabloids have made references to Brad and Angelina's "nannies," but if they do have anyone they keep them virtually hidden. Brad's family visited after the birth of Knox and Vivienne and his mother was probably a big help.
In her May interview, Angelina made it seem as if she and Brad had a very laid back parenting style, and said that their focus was art and communication: "Artists raise their kids differently… We have art around the house, we have books, we go to plays, we talk. Our focus is art and painting and dress-up and singing. It's what we love. So I think you can see how artists in some way raise other artists."
Artists aren't known for being particularly orderly. TMZ reports that Brad and Angelina's house is a wreck and that the only help they have on the weekends is a chef and security staff, who often end up on babysitter duty. They also say that the famous family is planning on moving back to Brad's home in Hollywood. I wonder if the mess they're said to be leaving at the chateau has anything to do with that:
We started getting tips about Brad Pitt and Angelina Joile — that they never let the kids go out in public with nannies because they want the public to see them as hands-on parents, which means the kids would basically be held hostage in the house unless their parents take them out. Absolutely not true.

We have really good spies in this department and here's what we know. As it was put to us, "Brad and Angelina don't give a f**k what the world thinks of how they're raising their kids." We're told their entire life revolves around the kids, and the houses they stay in are "dirty from the kids" — with toys everywhere, food on the floor and fingerprints on the walls.

We're told during weekends, there is a "minimal staff" at home — a cook and security, and that's it. The homes they stay at are often in the hills or at the beach, and security's top job is making sure the kids don't hurt themselves.

The Hollywood Hills home Brad has owned for years will soon become home base. We're told the main advantage is it's completely enclosed and the kids can roam on the property.

The best line — "They live like people in Simi Valley, only with more zeros on the price of the home."
[From TMZ]
It seems like with a lot of kids you have to be really regimented if your goal is to keep the house clean. Some people prefer to focus on the kids and go with the flow, though, and the house reflects that. You have to wonder if the supposed damage to the estate is a motivation for Brad and Angelina to move back and if they're having any issues with their landlord. If they do move back to Hollywood it should be a lot easier for them to find help.
In other Jolie-Pitt news, one of dad Brad's photos of his family will be featured on the cover of the November issue of W Magazine. W is the Magazine that scored that somewhat controversial 50s-style shoot with Brad and Angelina in July, 2005 called "Domestic Bliss." Do you think that Brad and Angelina are just responding to all the requests for publicity or are they actively seeking it? Pitt has Burn After Reading by the Coen brothers coming out in the US on September 12. It looks wickedly funny and also features George Clooney, Frances McDormand, and John Malkovich.
Brad, Angelina, Maddox, Zahara and Pax are shown out in New Orleans on 12/26/07. They went to see the movie "The Waterhouse" and also picked up KFC. Credit: Fame