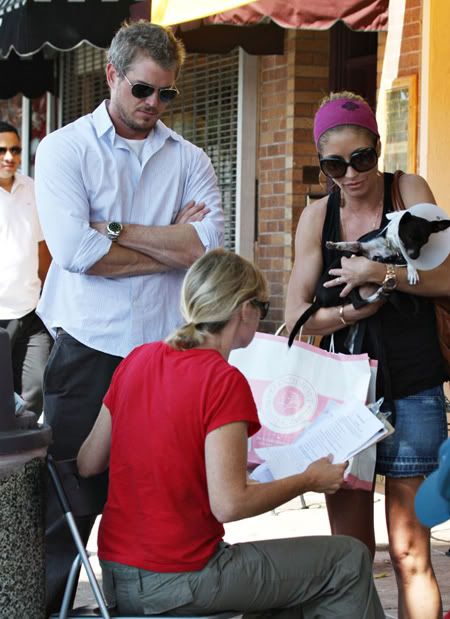 The personal lives of the stars of Grey's Anatomy may be more interesting than last season's plot lines, at least according to this week's Star..
McSteamy may be McSeparated
Eric Dane, aka Dr. McSteamy, is having marriage problems with wife Rebecca Gayheart. Star reports Eric has moved out of the couple's West Hollywood home to stay at Hollywood's famous Chateau Marmont. The reason is a common one in Hollywood: Jealousy.
"Eric and Rebecca used to love spending time together and were barely apart," says one insider. "But as Eric's gotten more famous, Rebecca's behavior has gotten more erratic. One second, she's jealous of his success; the next, she's angry and won't speak to him. Eric never knew what to expect."
[From Star, print edition, September 1, 2008]
The two wed in 2004.
Star adds that they've also been trying to start a family, adding more pressure to an already stressed relationship.
Besides Grey's Anatomy, Eric will also star with Jennifer Aniston and Owen Wilson in Marley & Me. Rebecca's last TV series Vanished was cancelled after only nine episodes had aired.
Rebecca's rep told Star that the report saying Eric has moved out is untrue. The rep says both Rebecca and Eric were staying at the Chateau Marmont while work was being done on their home.

Grey's Gets Green
Eric's Grey's co-star Sandra Oh is a vegetarian and is introducing her show's cast and crew to healthy vegan food. Star reports that on August 1, Sandra spent over $650 for lunch for everyone on set from her favorite Hollywood restaurant, Truly Vegan.
"They couldn't believe how amazing the food tasted," a crew member tells Star. "Patrick Dempsey enjoyed the chocolate vegan cake, and Ellen Pompeo has gone to Truly Vegan half a dozen times since trying the food."
[From Star, print edition, September 1, 2008]
Sharing food like Sandra did is a great way to show people that vegetarian food is more than carrots and lettuce and tastes better than cardboard. Many vegetarians have reputations for lecturing or shaming people about eating meat, but Sandra's way is more effective. Many people are surprised at how little meat they have to eat to get filling, delicious and healthy meals.

Litter Doesn't Bug Izzie
On the other end of the both the healthy and earth-friendly spectrums is Katherine Heigl. Katherine's chain-smoking is well documented, and apparently she's too young to remember "Give a Hoot, Don't Pollute."
According to Star, Katherine had lunch with her mother at P.F. Chang's in Santa Monica on August 11. After lunch, she tossed her cigarette on the ground right in front of a policeman, then had to sweet-talk her way out of a ticket.
"The officer told Katherine to pick up the butt and throw it away in the trash, 10 feet away," the source says. "He added that he'd fine her next time he catches her tossing trash on the sidewalk."
[From Star, print edition, September 1, 2008]
Sandra Oh should send Eric Dane a vegan chocolate cake to cheer him up, and another in thanks to the policeman who busted litterbug Katherine Heigl.
The fifth season of Grey's Anatomy will premiere September 25 on ABC.
Katherine Heigl is shown smoking after the SAG Awards on 01/28/07. Credit: Fame. Sandra Oh is shown on 9/14/07. Credit: John Cronise / WENN. Rebecca Gayheart and Eric Dane are shown adopting an injured puppy on 8/17/08. Their relationship must be solid if they're getting a widdle doggie. Credit: Ghost/ Fame Pictures