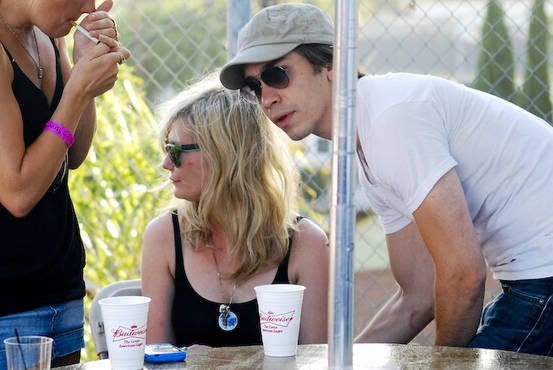 About a month ago, OK! reported that Kirsten Dunst, 26, and Drew Barrymore's recent ex, Justin Long, 30, were seen kissing out in NY and it looked like it was one of those morning-after hazy bleary love hangover situations. There's a real sense of elation when you hook up with someone, have great sex and then wander around and do things with them the next day. It's like the promise of a serious relationship is laid out before you, fulfilling and perfect. Reality is usually a lot different once those endorphins wear off, but it sounds like Kirsten and Justin are still in that "I've waited for this person my whole life" stage that gives everything a rosy postcoital glow. The two were spotted holding hands and making out while waiting in line:
Now it's Justin Long's turn on the Kirsten Dunst train. The "Mac guy" was snogging Dunst, who's been with Jake Gyllenhaal, Josh Hartnett, Andy Samberg and Orlando Bloom, in L.A. at Sunset Junction. The duo "were making out hard-core while waiting in line for margaritas," says our spy. "They were holding hands and were all over each other." We give it two weeks before they're over each other, period.
[From NY Daily News via D-Listed]
Justin just went with it when Drew Barrymore was telling anyone who would listen how amazing their relationship was. He strikes me as the serious boyfriend type and if Kirsten is open to it I bet they'll be together for a few months at least. She's been through a lot recently and deserves some happiness. They should keep the PDA in the house, though. Holding hands and kissing affectionately is one thing, but there's no reason to make out in public.
Photo Credit: Shane Redsar/Metromix LA