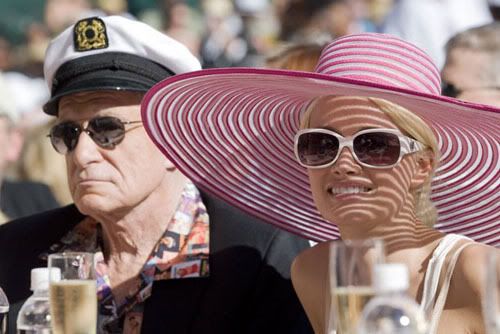 Every few months we hear rumors of a marriage planned for Hugh Hefner and his main girlfriend of seven years Holly Madison. OK! Magazine reports that Hugh will be getting married as part of the fifth series of Girls Next Door.
According to Hef's second girlfriend Bridget Marquart, 34, next season of The Girls Next Door features a "huge wedding." So of course we have to ask, could Hugh Hefner, 82, finally be tying the knot with main girlfriend Holly Madison, 28?

Bridget was reportedly overheard dishing about the show, hinting that she and fellow girlfriend Kendra Wilkinson, 23, will be moving out of the Playboy Mansion once season five wraps.

"She said they will be moving on since Holly is Hef's main girlfriend," a source tells OK!. Holly is also getting more involved with the magazine. "Holly is taking a bigger role in the company, directing pictorials," the source added.

At 82, I think Hugh's Playboy image is getting a little hard to, ahem, maintain. I can't imagine why a hot young girl would actually want to bed a guy that old – it can't just be his personality and charm, okay?
OK! Magazine misses one minor issue though: Hef's still married to his previous wife 1989 Playmate of the Year Kimberly Conrad. They separated in 1999 but never formally divorced.
Kendra Wilkinson is said to be moving on to her own reality series, and I can't see 34-year-old Bridget Marquardt staying much longer. Hef needs a nursemaid for his declining years, or companionship, or someone to maintain his image. Having only one girlfriend at 82 Tseems about right for even the creator of Playboy.
Besides, I'm pretty sure that Hef is going to get married in name only, for the series.
Hugh Hefner and Holly Madison are shown at the Playboy Jazz Festival on 6/14/08. Credit: WENN