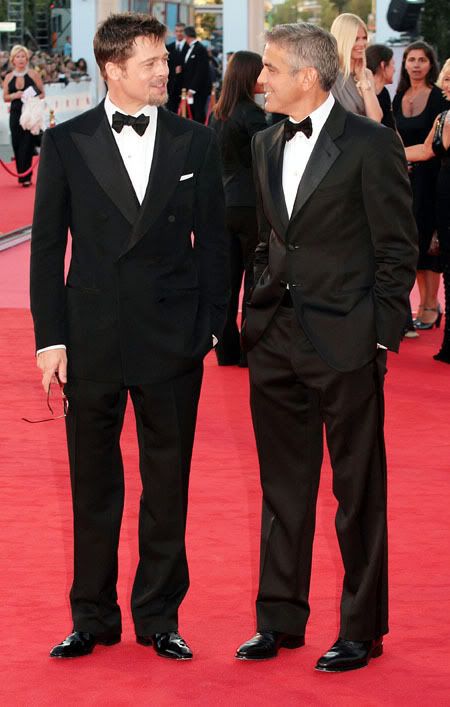 Last night Brad Pitt was given the trophy he won last year from the Venice Film Festival for best actor in 2007′s The Assassination of Jesse James by the Coward Robert Ford. The awards at the festival are handed out on the last night, at which point a lot of stars have gone home. Pitt had a run-in with a crazed fan at last year's Venice Film Festival, which gave him even more reason to hightail it home. Usually the trophies are mailed to the stars, but it seems they held on to Pitt's in order to make a big deal out of handing it to him:
Now back as star of the Coen brothers' "Burn After Reading," which opened the festival, Brad Pitt was handed the prize at last.

"I guess you forgot something here years ago," said the mistress of ceremonies, handing him the gold cup.

"You can run but you can't hide," Pitt said accepting it. "It was an honor to receive this last year and it's an honor to receive it this year. Thank you very much."

It's common for stars not to be present to accept the Venice Film Festival awards. The prizes are bestowed on the fest's final night at which point most celebs have gone home. Sometimes winners turn around and hurry back to reap the honor, but often they can't. That's what happened to Ben Affleck. Two years ago he found out that he won best actor for "Hollywoodland" soon after he landed in Los Angeles after returning from Venice. Affleck scrambled to try to arrange flights to get back before the fest officially closed, but without success.

Last year Brad Pitt attended the Venice Film Festival to promote "Jesse James," but left before awards night after being jumped by a crazed fan who pushed past his bodyguards and threw her arms around the heartthrob star. Pitt was obviously shaken by the ambush and said afterward, "I haven't been jumped like that in a while. It tells me that we're vulnerable. It's something I have been thinking about, but I don't want to change my life to avoid those kind of things. I've had break-ins in the house and I'm dealing with a recent one now. You also develop a radar. You feel it when you are approached by unbalanced people."

It's strange, however, that the Venice Film Festival didn't ship the award to Pitt after he won. That's how Affleck eventually caught up with his golden cup.
[From The LA Times]
The mistress of ceremonies also congratulated Pitt on his twins and handed him a yellow flower – saying it was for his "friend George."
Some reviews are in for Burn After Reading and they're disappointing. Variety trashes it, calling it "sophomoric," "immature" and "silly." The Hollywood Reporter says it's a "minor piece of silliness" full of idiotic characters and that some may love it and others will want to leave it.
Here is some footage for a press conference for "Burn After Reading" in which Brad and George get asked those stupid questions that they joke about. It's not as funny when you see it. You can tell Brad's "two more kids by next year" was just a throwaway comment.
And here are pictures from the premiere at the film festival last night as well as the opening night party. Thanks to WENN.