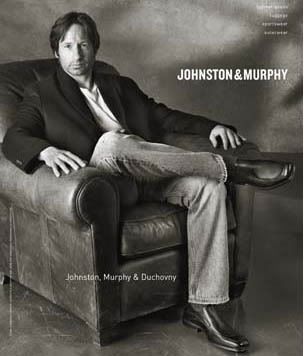 High end shoe retailer Johnston & Murphy has made the decision to no longer display in-store ads featuring new spokeman X-Files star David Duchovny, 48. Duchovny announced last week that he was suffering from a sex addiction and was currently in rehab for treatment. The actor has two children and has been married for 11 years to actress Téa Leoni. According to the NY Post, the NY store on Madison Ave. is no longer displaying the Duchovny ads, with a store employee saying that "We got the call from corporate this morning to take him down."
Duchovny's campaign was a new one for the retailer, and their press releases ahead of the August launch touted the actor's image and even tied him to the brand, using the tagline, Johnston, Murphy & Duchovny:
The X-Files: I Want to Believe opened in an underwhelming fourth place among the top ten movies this past weekend, but actor David Duchovny is No. 1 at men's sportswear, footwear and accessories company Johnston & Murphy, where he will star in a national campaign breaking in August.

The effort, via Toth Brand Imaging, Cambridge, Mass., is anchored by a print campaign that will launch in September issues of such publications as Esquire, Forbes, Fortune and Men's Health. Support includes Internet and POP. Spend for the campaign was not disclosed.

The ads show Duchovny, with a pensive look on his face, wearing Johnston & Murphy sportswear and shoes and, in some creative, accompanied by accessories such as a briefcase and other leather goods. Text reads: "Johnston, Murphy & Duchovny."

The effort is part of the company's recent strategy to rejuvenate the 157-year-old brand "by portraying a fresher, more dynamic and relevant image in the marketplace, as well as promote emerging categories such as luggage, small leather goods and outerwear." Former ads have featured musician Ziggy Marley, BMX rider Mat Hoffman and football star Tiki Barber.

"We're thrilled to have David Duchovny as part of our ad campaign," Jason Dasal, vp-marketing at Johnston & Murphy, Nashville, Tenn., said in a statement. "David embodies success and confidence, along with a great sense of style, communicating the ideal image for the Johnston & Murphy brand."
[From Brandweek]
I wonder if Duchovny's contract had any stipulations about his personal life. You can see why the brand wouldn't want to be associated with him after this, and I bet the person who came up with that pitch is kicking themselves for tying it so closely to Duchovny's character. At least he has his legs crossed in the ads, although he looks kind of skeevy to me now considering what I know about him.