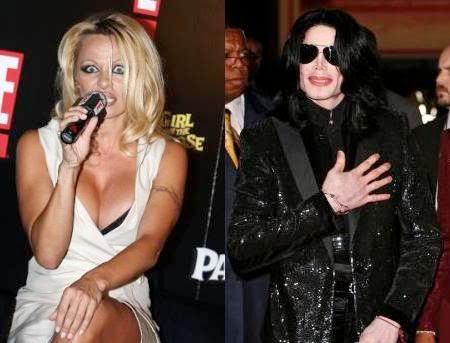 There are a few hypothetical celebrity couplings the very idea of which is so horrendous that it's actually immediately transferred from the conscious, to the subconscious, to the unconscious, and then just thrown the hell away. Freud wrote about it. Something like "gross the hell out" complex. And the best example I can give of it is the idea of Michael Jackson dating Pamela Anderson. Which really is… stop it, keep it in your conscious mind now… happening according to the Daily Mirror.
We really shouldn't be surprised at anything when it comes to Michael Jackson. But we have to admit we were shocked when we found out he'd been on a string of dates with Pamela Anderson. The odd couple seem to have bonded over their love of plastic surgery and have been hooking up in Malibu.

We hear the big-boobed babe is a massive fan of Michael… and it seems the feeling is mutual. A source said: "It was all arranged by their people in total secrecy, very cloak and dagger. Michael is such a private person. He gets nervous when he thinks people are following him around, so he chose somewhere neutral for their first date. They arrived separately at the Shutters Hotel on Malibu Beach so no one would suspect anything and then had a few drinks in the bar."

The pair requested a hidden area in the corner – for two reasons. Firstly, it shielded them from any prying eyes. And second, it would have protected them from the dangerous melting effects of the Californian sunshine. After all, there's a fine line between looking hot and having a runny, bubbling face. Our source went on: "They were very chatty. Pamela was being her usual flirty self and Michael seemed to be responding. They are such a strange couple but they seemed to really hit it off."

So much so Michael plucked up the courage to ask Pammy out on a second date. And she was more than happy to accept.
[From the Daily Mirror]
This is one of those rumors I'd clearly call bullshit on if it were about any two people besides Pamela Anderson and Michael Jackson. These two crave ridiculous, improbable levels of drama the way the rest of us need protein and vitamins. It is absolutely essential to their existence. And the more insane something seems, the higher the chance they're actually doing it.
I'm guessing they're going to have some half-orange, half dermatology-induced bleached children in the very near future.
Here's Pamela Anderson running errands in Malibu on Labor Day. Images thanks to Fame. Header photo of Michael Jackson is a file photo from 2006. Images thanks to PR Photos and Fame.