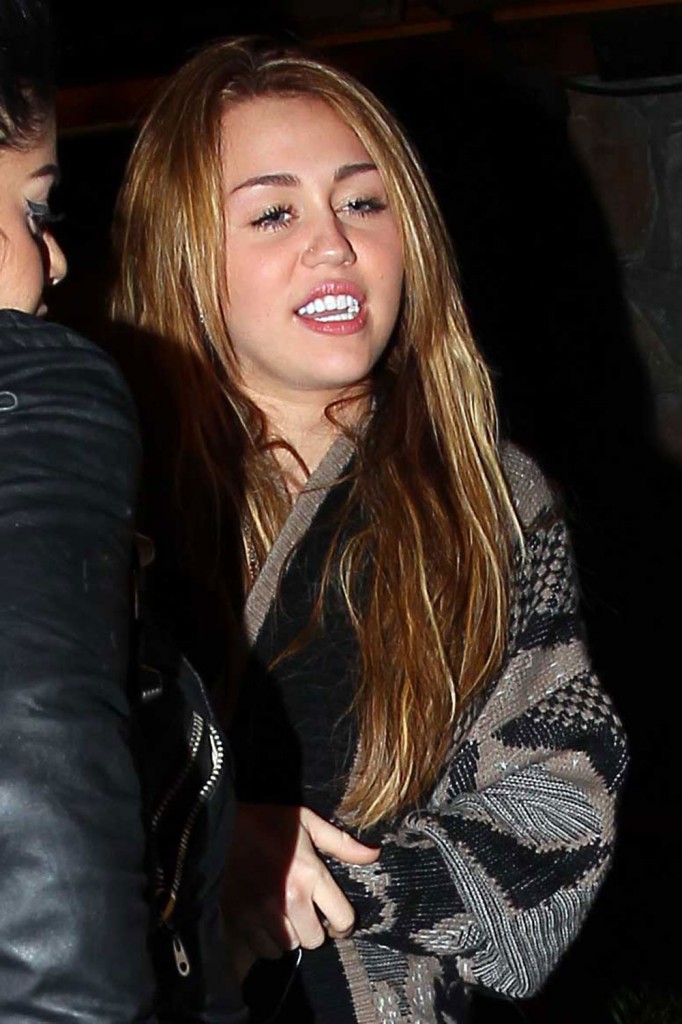 Like Miley Cyrus, I was smoking cigarettes and getting tattoos around her age. I only got a couple of tattoos when I was around 20 and regret just one of them. (Which is really the artist's fault because he didn't use the colors or the design I requested and the result is something that my brother calls an Easter egg. Note to women in the locker room and at the pool – do not ask about my tattoos.) I quit the smoking but the tattoos will stay with me forever. A lot people love their body artwork and are proud of it, but in my case I wish I made different choices when I was younger.
Anyway Miley Cyrus wore a cutaway shirt recently to reveal a huge tattoo of a dreamcatcher on the side of her ribcage. (Photos are here.) It's her fifth tattoo at just 18, and she got her first one, the word "breathe" on her ribcage, at 16.
Miley Cyrus has added another tattoo to her collection.

The 18-year-old singer-actress now has a dream catcher inked on her torso, a friend close to Cyrus tells PEOPLE.

"It's a picture of the dream catcher that hangs over her bed with four feathers to represent her four brothers and sisters," says the friend. (Miley's siblings are Brandi, 23, Trace, 21, Braison, 16, and Noah, 11.) "The dream catcher is to protect them."

That brings Cyrus's current tattoo tally up to five.

She also has a heart and a small cross on her fingers, the word 'love" on her ear and the phrase "just breathe" on her rib cage in honor of a close friend who died of cystic fibrosis.

"All of Miley's tattoos have a deep meaning to her," says the friend. "They all represent family and friends close to her."
[From People]
It's all pretty normal from my perspective. Miley has been awkwardly exploring her sexuality through her music videos, she's been seen smoking a hallucinogenic drug through a bong, and now she's getting tattoos. It could be a lot worse. Miley is a billion dollar enterprise, though, and countless girls look up to her. She realizes that she's not a role model and she's rebelling again her Disney image in a rather mild way.
There's news that the video of Miley smoking salvia forced producers of her upcoming movie, LOL, to have to edit out a scene that shows her character smoking pot. Miley is said not to really care much about the minor scandal.
Ashley Greene, Miley's co-star, recently said that Miley has "probably been through as much as a 40-year-old." Hopefully she'll stay relatively sober and won't join fellow former Disney star Lindsay Lohan in looking like a 40 year-old well before her time. The tattoos are a small step in that direction, but at least she's not drinking and clubbing. Oh wait.
Miley is shown out on 11/23 and 11/27/10. Credit: Fame Pictures