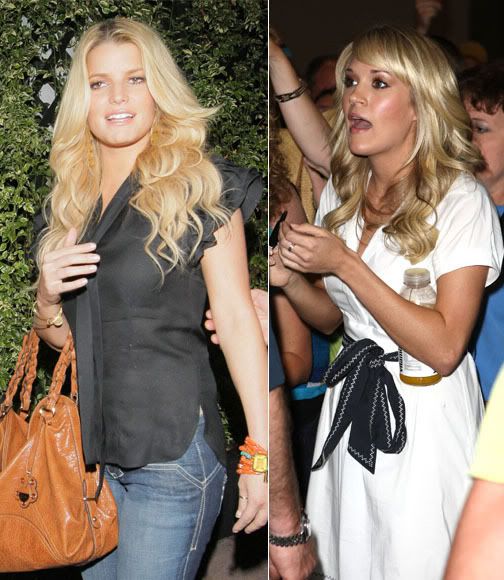 OK! Magazine has a headline story online that reads "Carrie calls Jessica Fat!" and features a flattering photo of super thin Underwood. The accompanying story doesn't have a lot of evidence that it's true, though, and is just based on an insider quote. It has something moderately snarky that sounds like what we'd hear out of Carrie's mouth. It's not just "she's fat," but she's "fatter":
While Tony, 28, may be pleased with Jessica and her declarations of love, his ex, Carrie, has quite a different point of view.

"She finds Jessica's love of putting her life on display pretty desperate," a pal of the "Before He Cheats" singer tells OK!. "She laughed at the People cover, because it's the same one Jess did about John Mayer — same smile, same look, except she's a little fatter."
[From OK!]
Amazing that Underwood has a photographic memory of a People cover – or even bothered to look it up. That sounds like something a seasoned media insider, not a jealous ex girlfriend, would say. They're right, though, I looked up Simpson's People cover for Mayer and here it is next to the one she did for Tony Romo.
It takes one to know one, Carrie, and you're the one who said in a recent interview that "The phone will ring and it'll be him, and I'll maybe not answer."
Whether Carrie actually said that Jessica was fatter or whatever is up to question. It's not a direct quote and I wouldn't put it past OK! to stir up some more female fights for the sake of selling copies.
Jessica Simpson is still repeating her talking points about how she wants a family and kids and how hurt she is by the media. She told Fox News' Pop Tarts that if people only knew her, they wouldn't talk about her so negatively:
"I am a very open person, but how the media is these days makes it hard. Unfortunately people want to believe bad stuff and I just don't understand that — sometimes it is like a personal attack," Jessica said sadly. "It's a challenge for me to act like it's just part of my career. If they knew your heart, they wouldn't be talking about you like this."

But something the singer was a little more excited to talk about was becoming an aunt (we've heard word she'll have a niece) and her plans to follow in younger sis Ashlee's footsteps in marriage (for the second time) and motherhood.

"I would love to be making records and making babies and hopefully I'm married in 10 years," Simpson added. "I have the dreams of every normal person. I want to be a great aunt."
[From Fox News]
Maybe that's Simpson's entire media strategy right there – lay bare her every relationship and open her life to such scrutiny because if people only really knew her, they would like her, damnit. It hasn't worked in the five years since she first started Newlyweds, but she's still working on it, oversharing and acting like the semi-talented slow to catch on girl next door, hoping we'll be her friend. Meanwhile her rivals are using the personal information she shares to mock her.
Jessica Simpson is shown out at Beso on 9/2/08 with Ken Paves. Credit: WENN. Carrie Underwood is shown at the CMA Music Festival on 6/7/08. Credit: WENN