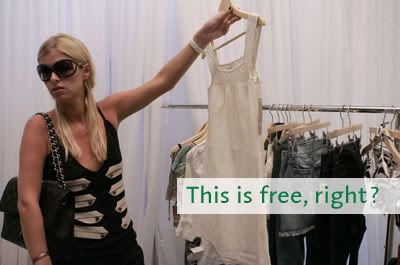 Award shows like The Oscars and The Emmys are going to have trouble getting celebrities to accept their swag bags. The IRS is reminding everyone that all the crap they receive, typically worth $50,000 and up, is subject to taxation. Presenters at next week's Emmy awards have to sign a statement acknowledging that they accept tax responsibility for all the gifts they receive. The Academy of Motion Picture Arts and Sciences also said there will be no more skyrocketing swag bags for Oscar presenters! Oh no!
The Internal Revenue Service launched a campaign Thursday aimed at clarifying the tax consequences of the gift-jammed goody bags and luxury giveaway suites that surround awards ceremonies and film festivals. The bad news for every A-lister and low-level minion alike who ever pockets a freebie: It's taxable income.
The Academy of Motion Picture Arts and Sciences, in a related announcement, said it would eliminate the luxurious gift baskets it customarily offers to Oscar presenters such as Jennifer Aniston, Tom Hanks and Will Ferrell, starting with next year's show.
Without specifying whether any money changed hands, the academy and the IRS also said they have settled any tax obligations presenters may have owed the government from gift baskets received through 2005. Recipients of the Oscar gift baskets in this year's ceremony will soon receive a tax form from the academy detailing the fair market value of its contents.
It goes beyond the Oscars. Next week, an array of Emmy-timed swag suites are scheduled to open for business ahead of the Aug. 27 awards show. The Academy of Television Arts & Sciences said it has also informed this year's Emmy presenters (among them Heidi Klum, James Gandolfini and Eva Longoria) that their gift bags are taxable, but would not say whether it planned on eliminating the bags altogether.
Gift bags and swag suites have exploded in recent years, as clothing companies, hotels, cellphone manufacturers and the makers of seemingly every imaginable kind of consumer goods (chocolates, lingerie, cufflinks, sunglasses, luggage, etc.) dole out items to celebrities in the hopes of garnering free advertising when those celebrities are photographed wearing those shoes or chatting into that cellphone.
So that's why George Cooney donated his presenter gift bag. The IRS had already announced that Oscar gifts were taxable at that point, it just hadn't received much press. You're going to see a lot more press releases about celebrities donating their spa stays and luxury goods to charity, except you'll know it's not so selfless. What's Life and Style to do now that they can't market a bunch of expensive products to laypeople that celebrities get for free? Those poor luxury goos manufacturers will have to find another marketing strategy.
This affects much more than just award shows, because companies often sponsor parties for celebrities, hoping to get pictures of them posing with the free stuff. Spa suites are set up before The Oscars to get celebrities "prepared" to market more crap. Hopefully the IRS will crack down on that practice, too. What will happen to Sundance? Will celebrities stop showing up to so many events? How will celebrities cope with having to buy their own stuff? Will divas get a little more humble?