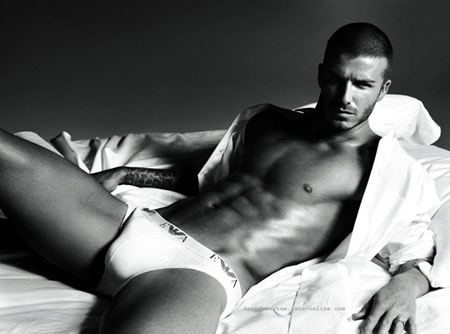 Do you know that Armani underwear ad in which David Beckham is laying on his back, legs spread in a V, just inviting us to… buy the briefs for our husbands? Of course you do, that image is pretty much iconic now. There was a lot of speculation that the bulge in Beckham's tighty whiteys was digitally enhanced, but his wife Victoria swore that he's as blessed down below as he is everywhere else. She crudely mentioned that his manhood is "like a tractor exhaust pipe" and said that she still has a "really good sex life" with her husband of nine years.
Now we have confirmation from another guy who scoped out the Goldenballs. A DJ from Australia claims to have been doing his business at a urinal next to Beckham and to have checked him out. He says the advertisements are legit and Beckham is as much a man as his wife claims:
Australian DJ KYLE SANDILANDS told listeners to his show: "I was in the toilet at Villa nightclub in LA and there's only two urinals in there, it's very small.

"Somebody comes in behind me, and I hear a soft voice say 'Hello, how are you?' I turned around and think: 'Holy s***! It's David Beckham!'

"I'm midway through and I think, I've got to slow this down. I couldn't help myself, for the first time in my life, I glanced down to the left and had a look."

Asked whether Becks was a big boy, Kyle replied: "There's two types of penis.

"There's the one that's the same size all the time and the other one changes in size.

"Let's just say he looks like he's got it going on whether it's happy or not."
[From The Sun]
DJs talk a lot of crap, so who knows if this is true. I wonder what the backstory is and if the guy explained how he ended up peeing next to Beckham. Either way, I believe it.
Sales of Armani underwear increased significantly after Beckham's ad campaign, with British department store Selfridges reporting a 50% increase in sales of white Armani briefs. You can only buy the skivvies, though, the body is damn near unattainable for most of us.