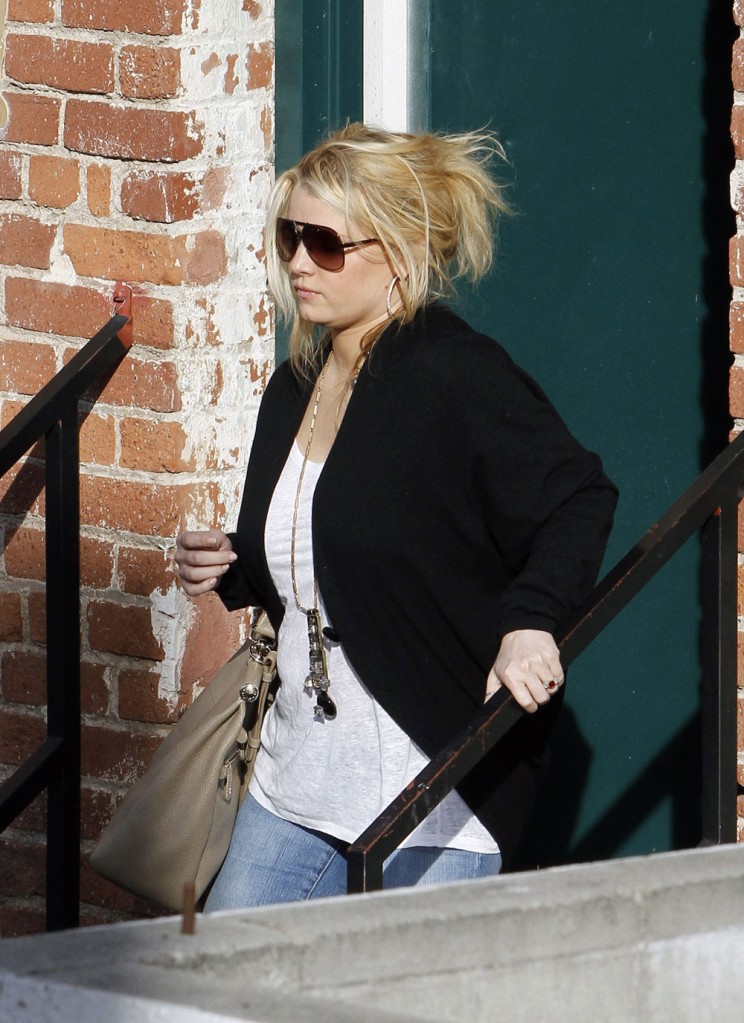 Here's a story I'm hoping is made up. The National Enquirer is reporting that Jessica Simpson's fiance is telling her that she needs to lose weight or he's breaking up with her. That's really harsh, and considering how impressionable and willing to please she is, if this happened I bet it was more of a suggestion than an ultimatum. Here's the Enquirer's report, which seems based on known details about Jessica's diet and weight.
"Diet or we're done!" Jessica Simpson's expanding waistline prompted an ugly ultimatum like that from her fiance Eric Johnson – and pals say the blonde beauty is heartsick over vicious weight-related fights that are jeopardizing their wedding plans.

The 5-foot-3 singer is rapidly approaching the 150-pound mark because of her love for Mexican food, margaritas and "anything fried," an insider told The Enquirer.

"And now it looks like her weight gain is ripping them apart!"

Eric, a former San Francisco 49ers football player, proposed in early November after a six-month courtship. "He is in tip-top shape and feels like Jessica is letting herself go," divulged the insider.

"They've recently had some brutal fights, and finally Eric basically told Jess if she didn't lose weight soon, he was calling the whole thing off. Eric is a vegan. He exercises daily and counts every calorie."
[From The National Enquirer, print edition, February 21, 2011]
I don't see this happening like this, if at all. Eric knows which side his bread is buttered and Jessica may be eager to keep him, but he's not going to treat her like she's expendable. Plus she hasn't gained that much weight since she started dating Eric, and he's filled out a little too. In my experience guys don't really notice if you gain 10 pounds. They're usually just happy to get laid and aren't a fraction as hung up on our weight as we are. If anything, Jessica is probably trying to diet and lose weight before the wedding and it's her own idea, as is typical for brides to be.
I wonder, though, if Jessica is going to postpone her wedding or just take it a little slower now that her little sister Ashlee just filed for divorce. It seems like she might take her time with the planning process if she hasn't set a date yet.
Photos of Jessica and Eric are from 2/4/11 after they went to lunch. I hope she has JBF hair because that's the only excuse she could give that would explain it. Credit: Fame