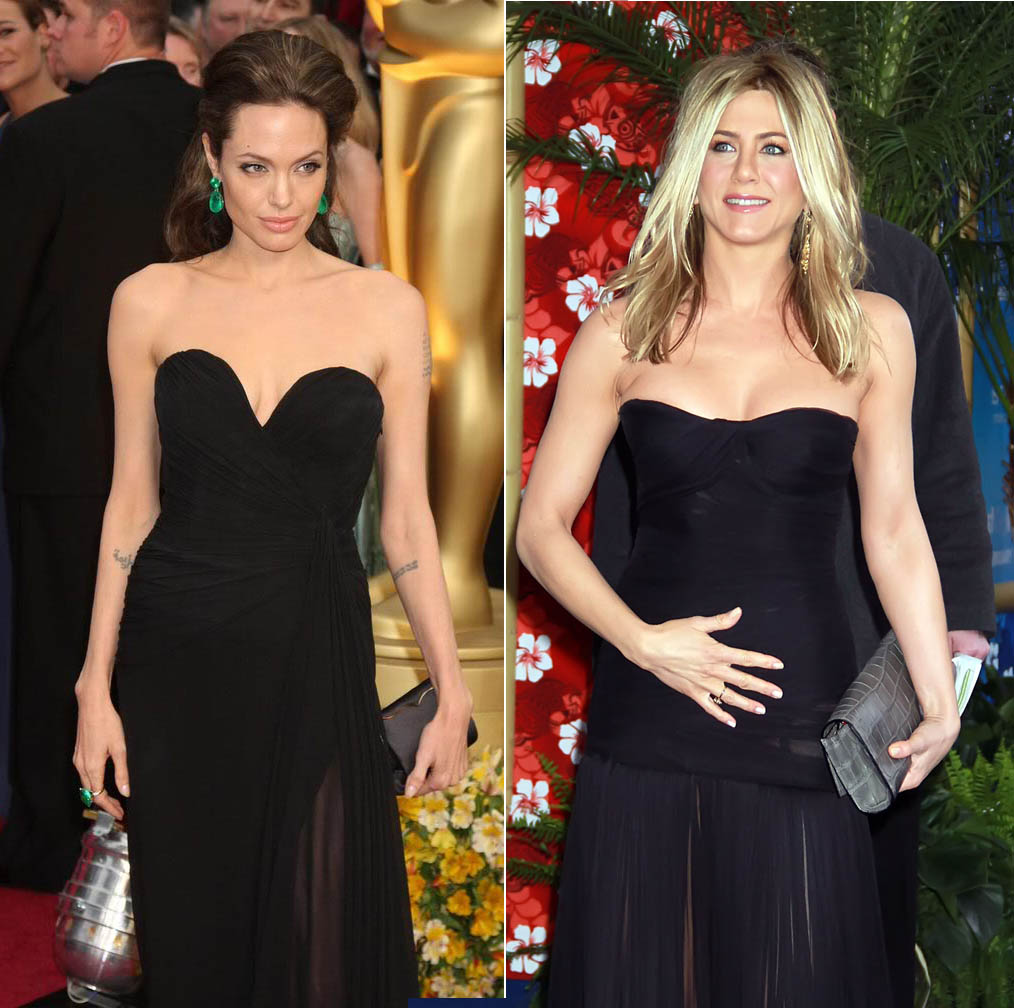 It was just about a year ago that US Weekly claimed that Jennifer Aniston "stole" Angelina Jolie's look because she dared to wear a dress of a completely different fabric, color and cut that just happened to have a sexy thigh high slit, a designer gown feature that has been popular for years.
Aniston recently wore a strapless black dress with a long sheer skirt, somewhat similar but in no way identical to Angelina's strapless Elie Saab from the 2009 Oscars. This is not even close to a "who wore it best?" moment, as Aniston's Dolce & Gabbana dress has a different bodice, neckline, design and fit than Angelina's. They're both black dresses with some superficially similar details though, so US is going to go there. Their headline reads "Jennifer Aniston copies Angelina Jolie's style." As wrong as they are, I admire that they're one of the last mainstream celebrity outlets that is willing to be so provocative and bitchy. They sure have it out for Aniston, though, and that's been true for some time.
Aniston is not my favorite person because I like my celebrities to be able to string a sentence together, but even I will admit that this is a cheap shot. Is she supposed to have her people review all of Angelina's outfits for the past several years to ensure that she choses something that's radically different for every event? If Aniston starts wearing shapeless boat neck dresses (and you know that's not going to happen) then they can make a comparison. She should do it just to get people talking smack, since they're going to do it anyway.
In related news about Aniston and the Just Go With It premiere, Heidi Montag has backtracked on her comments that Aniston had her banned from the red carpet. The way Heidi explained her gaffe makes it sound like she made up the story.
Oh and it's also Aniston's 42nd birthday today! Hope it's a good one with lots of sun and plenty of margaritas. Or, you know, like any other day for her. Must be nice.