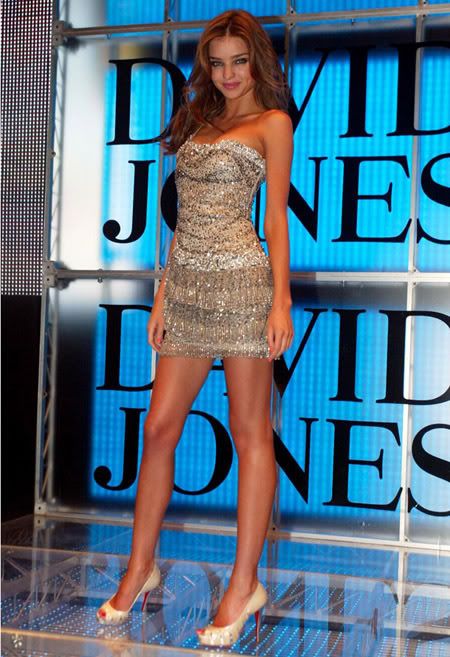 Victoria's Secret model Miranda Kerr, 25, told Hello! Magazine that when she first met actor Orlando Bloom, 31, she was seeing someone else and refused to give him her phone number. Bloom was persistent, and got the Australian model's number from her publicist and called her up anyway. She eventually became single and gave the heartthrob a chance. They're now a happy couple and it might not have worked out so well if Kerr hadn't played hard to get. Kerr calls Bloom "gorgeous" and "a sweetheart" in the interview.
Is your relationship with Orlando public knowledge yet, Miranda?
"Oh yes. Everyone knows now, I think."

Congratulations, because he's a beautiful man.
"Thanks, I know. He is gorgeous, isn't he? He really is a sweetheart."

How did you meet?
"We were friends for a while and then it just developed into a little more."

Is Orlando shy? Is that why it took him a while to make a move?
"He was a little bit cheeky, actually. He got my number from my agent because I wouldn't give it to him. Then he called and said, 'We can just be friends.' I was like, 'OK, then.'"

Why wouldn't you give him your number?
"At the time I was seeing someone else."

What does a man have to do to impress you?
"Thoughtful things impress me. Like making me a card instead of buying me a card. It sounds cheesy, I know, but it's all about what's inside that counts with me."

Is that to do with your beliefs as a practicing Buddhist?
"Yes. Buddhism also opens you up to the possibilities for the earth and whatever it is you want to achieve or get in life. It's worked for me. I'm so grateful for everything."
[From Hello! Magazine, print edition, September 16, 2008]
Orlando has been a Buddhist for years, so it seems he's influenced Miranda to get involved with the religion as well.
Miranda dished a little on Orlando's underwear choice. She said he shops at her employer, Victoria's Secret, and that "he's got these cute little boxer shorts."
She also told a very amusing story about her rumored feud with Paris Hilton:
"That was when I first moved to New York and did a show at Fashion Week. What happened was I had this beautiful little pink dress to wear for the show. Paris was watching from the front row but decided at the last minute that she actually wanted to be in the show. So she came in and got to pick what she wanted to wear. One of the dresses she chose was mine, so I was a little miffed but I reined myself in.

"I thought it was really funny, actually, because what happened next was like karma. Naomi Campbell turned up really late, five minutes before the end of the show. Paris was all dressed for the finale but they took the dress right off her and gave it to Naomi. So Paris was left standing there naked. You could see she was really angry about it. Naomi walked down the catwalk in it and was front page news the next day."
[From Hello! Magazine, print edition, September 16, 2008]
Kerr is writing a self-help book for teenagers called Treasure Yourself she says it's about "eating for your blood type and food combining," which she says has helped her keep fit. She says that "it's really challenging for young women to know the right things to eat" and to "concentrate on nutrition rather than… calories."
Miranda Kerr is shown at the launch of the David Jones collection in Sydney on 8/5/08. Credit: Malcolm Ladd/ICON/Fame Pictures