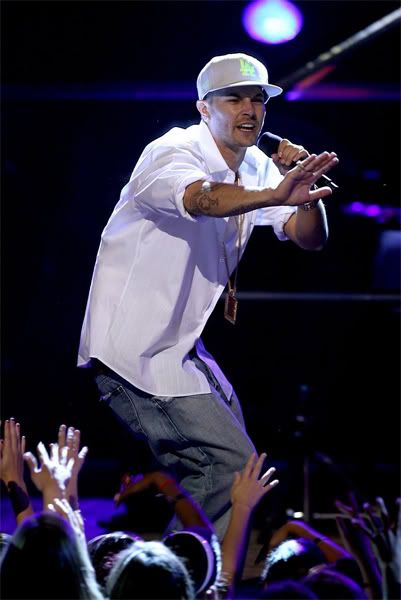 The Beastie Boys, Eminem and 3rd Bass all prove that white guys can rap. Vanilla Ice was ahead of his time. K-Fed embodies the stereotype that white guys are idiot posers with no talent. His performance at the Teen Choice Awards yesterday just set white rappers back 15 years.
Britney threw some more seaweed over her beached whale of a career by coming on stage in one of her trademark boob-baring maternity dresses and introducing her husband through a mouthful of gum.
During the performance teen boys try to distract from the real K-Fed by performing karaoke to his rapping, and a wingman raps the intro to the song, but nothing can save this hot mess. All the boys do is remind us that K-Fed's insane ambition to rap is best abandoned in the Junior High years.
This video links out to YouTube:

Thanks to We Love Celebs for the header image and video link.