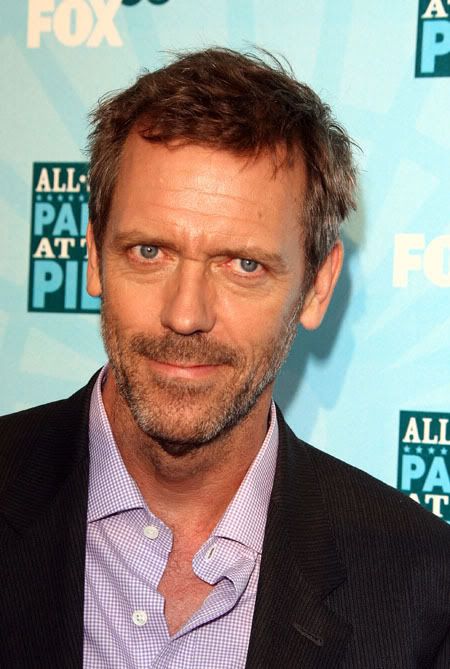 House star Hugh Laurie has been outspoken about his loneliness as he's stayed in LA to work on the popular Fox show while his family, including three teenage children, has remained with their mom in their native England. Laurie has said that he's tried to convince his kids, Charlie, 19, Bill, 17, and Rebecca, 14, to move to LA but that his oldest son was particularly against it. Compounding the problem was Laurie's own mistrust of his success and his fear that once he moves his family to LA he'll end up out of work.
House producers have now offered Laurie a $17.5 million contract to stick with the show for three more years, and as one of the most well paid TV actors Laurie and his family have finally been convinced that it's time make the move. They're said to be planning a move to LA in the next few days after Hugh's wife of 19 years, Jo, persuaded him. Hugh's oldest son Charlie is now going to Columbia University in New York and that may have also helped with the decision.
After nearly four years of living a trans-Atlantic life which has done little for the depressive actor's mental state, not to mention his 19-year marriage, the Mail can reveal that Hugh's family are moving to America to be with him.

Until now and despite the unhappiness the nine-month separations have caused, the actor has always refused to uproot his family.

A determined pessimist, he was certain that the moment he moved the family and disrupted his children's schooling, House would be cancelled.

'I'll probably be confident enough to move them in about ten years time,' he semi-joked earlier this year. 'I can never really believe the thing [House] is going to last. The whole of the first year I was in a hotel. I didn't even unpack the suitcase.'

But after a particularly difficult year, during which he was forced to forego his usual two-month summer break with his family thanks to the Hollywood screenwriter's strike, it was clear that his nomadic lifestyle was not doing him any good.

Sources say it was theatre administrator Jo who finally persuaded him that the family should move.

The couple have always denied rumours that their marriage was on the rocks but it is unlikely that their enforced separations were doing their union any good.

'Jo could not stand seeing Hugh miserable any longer,' said one source. 'They all missed each other so much.'

Neither Hugh's British publicist nor his American one will confirm or deny the story – both said they had no comment. But the move is an open secret among Hugh's friends.
[From The Daily Mail]
The Daily Mail reports that Hugh had to film all summer instead of getting the usual two month break to spend with his family due to the schedule being rearranged by the writer's strike. Fox recognized the strain on Laurie's personal life and gave him "three full-time assistants… to help him find the perfect family home." He did find and purchase a $3.5 million 3,242 square foot mansion in Hollywood right before jetting off to England. Laurie had previously lived in a rented home near the House set and said that he was often stressed from working long hours.
Congratulations to Hugh and his family. America loves this guy and his career is not likely face problems anytime soon.
Hugh Laurie is shown on 7/14/08 at the Fox All Star party. Credit: Juan Rico/Fame Pictures