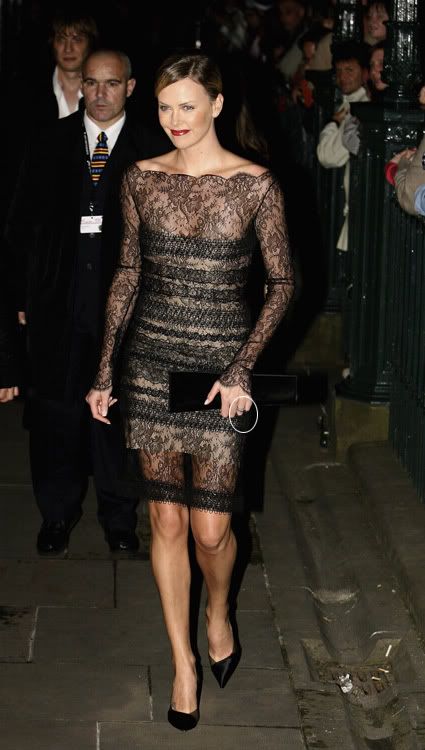 Charlize Theron sported darker hair and is still wearing that engagement ring we first spotted back in late April. A new interview from Scotland, where she has been attending the Edinburgh film festival, calls her boyfriend of four years, Irish actor Stuart Townsend, her fiance. It's stated in a matter-of-fact manner despite the fact that this news hasn't been announced:
Theron now lives in LA with her fiancé, Irish actor Stuart Townsend, whom she met on the set of the 2002 thriller Trapped. As non-committal about any future marriage plans as she is to acting right now, for the moment Theron is looking to launch a new film with director Alan Parker, "an eccentric off-the-tracks family drama-comedy" as she puts it.
Theron's engagement has been under the radar in Hollywood, although she wore a ring on ther left ring finger to the opening of Club Social Hollywood in late June and may be waiting for the press to pick up on it.
She is producing and starring in a new film about Cuban music artists, her first in over two years. She quipped on stage at the Edinburgh film festival that she was moving to Scotland, as she was surprised that they gave her whisky to drink during a press conference.
Since wer're the first ones to spot this we're calling it a sort-of exclusive.
Here is Theron at the film festival on August 17, 18, and 19th. [via]