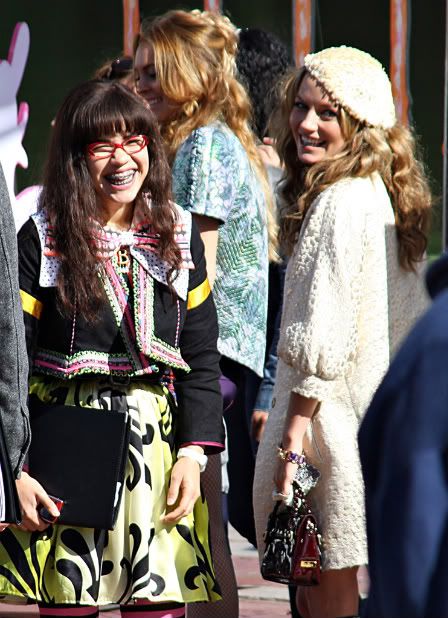 America Ferrera has made some pretty bold statements about Sisterhood of the Traveling Pants costar Blake Lively's show Gossip Girl. Ferrera claims shows like that emphasize a catty, competitive, bitchy nature between women and completely discount the loving, supportive bonds many have with one another. Though she's right, it also seems like that statement has a tinge of hypocrisy, in that criticizing your supposed friend's show for it is a little harsh in the first place.
America Ferrera isn't a fan of The Hills or Gossip Girl. "Close, genuine female relationships are not what generally gets depicted in movies and TV shows," she says in the October issue of Seventeen. "Like, if you're watching The Hills or 90210, all the backstabbing shapes the way we act – you go to school, and you think your job is to find a sworn enemy and be jealous of each other," she goes on.

Adds Ferrera, 24: "I mean, I love Blake [Lively], she's a wonderful friend of mine, but shows like Gossip Girl kind of condition us to be mean."

But working with Lively, Amber Tamblyn and Alexis Bledel in the Sisterhood of the Traveling Pants movies was "one of the most wonderful experiences I've had with girl relationships," she says. Before meeting them she says, "I was like, 'I'm just going to show up to work and be professional – not their best friend… But a couple of weeks into shooting, Amber and I started talking," Ferrera tells Seventeen. "She's a hippie, and I thought we had nothing in common – and now she's one of my closest friends!"
[From Us Weekly]
I wholeheartedly agree with everything America said, and frankly while it'll probably make things a little awkward between her and Blake, I think having the guts to say that is sorta worth it. She wasn't disrespectful and was honest and concise. Ugly Betty is fun but not overt trash like some of the other shows Ferrera mentioned.
Whenever I read an interview with America it's clear that she's whip smart, very opinionated, and well-spoken. I think her comments were pretty fair everything considered, and she made her point without being mean-spirited.
Here's America on the set of Ugly Betty in Central Park yesterday. Images thanks to Fame.