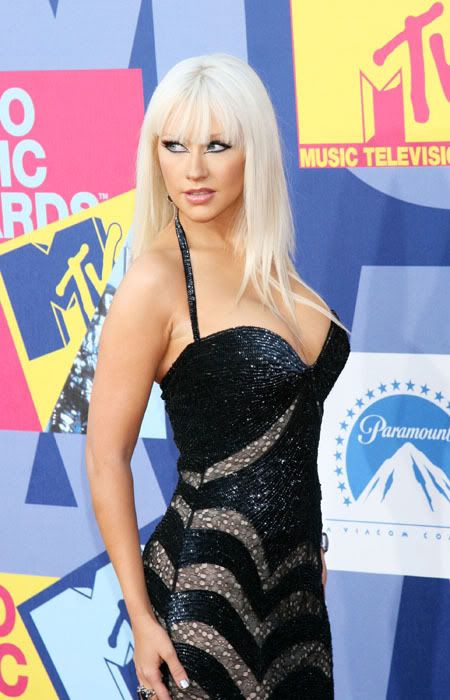 In Touch has details of the performer's backstage riders at the VMAs and they're really not all the demanding – except for Christina Aguilera, who is said to have had 41 items on her list, and LL Cool J, whose list is particularly expensive and detailed. I think that In Touch distilled this list down to just a few things for each musician. The Jonas Brothers prefer both regular and sugar free Red Bull, Vitamin Water and vegetarian sushi while Kid Rock wants socks and ChapStick.
Christina Aguilera
– 1 large boom box that plays CDs, no alarm clock stereos
– 1 full length mirror
– 1 space heater
– 1 table just for makeup and dressing
– 2 bottles of Veuve Clicquot champagne
– 3 L'Occitane vanilla-scented candles with matches
– 1 cozy blanket
– 4 black bath towels
– 1 case of Arrowhead water


LL Cool J
– 1 black super stretch limo
– 14 airline tickets
– 14 hotel rooms
– 3 dressings (ranch, thousand island, honey mustard)
– 24 long-stem roses with no thorns, with individual water reservoir tips


Rihanna
– 1 lighted professional makeup mirror
– 2 Trish McEvoy blueberry candles
– 1 large, comfy sofa
– 24 Buffalo wings, hot sauce on the side
– 1 whole roasted chicken, spiced with jerk seasoning and cut into parts


Kid Rock
– 1 toaster
– 1 tube of ChapStick
– 1 pack of white crew socks
– 2 bottles of Grey Goose or Ketel One vodka
– 2 low fat yogurts (raspberry)
– 1 package of baby wipes


Jonas Brothers
– 8 Red Bull Sugarfree beverages, plus 6 regular Red Bulls
– 2 plastic bottles of room-temperature apple juice
– 12 bath-size towels (must be freshly laundered)
– 24 pieces of California sushi rolls
– 1 package of Oreo Double Stuff
– 6 bottles Vitaminwater (yellow, red, orange)
– 3 packages of Listerine Pocket-packs breath strips
[From In Touch, print edition, September 22, 2008]
I like setting up the guest room when people stay over and putting out towels, water, bath gel and hand cream and stuff. Sometimes I tie a little ribbon around the towel set, which I learned how to do in a Martha Stewart book. I think I would enjoy outfitting the celebrities' dressing rooms and making them all special with baskets filled with their favorite things. Of course unlike the guests at my house no one would be thanking me for it and it would get tedious after a day or two. The people who do that job must chewed out regularly for forgetting small little details and/or not being able to read the privileged folks' minds.
According Snopes.com, Van Halen added the seemingly strange request "no brown M&Ms" to their concert riders to make sure that all the more important requests about their technical and sound requirements were followed precisely. If there were brown M&Ms – they could be sure that the other details were skipped over too.
It's about comfort for these stars rather than technical precision. The Jonas Brothers probably just want to get a nice caffeine buzz before they go on while Kid Rock has sweaty feet and needs new socks. I wonder what was in Britney's rider. (Here's what she asked for during her 2000 tour.) What would be on your list if you could get a bunch of stuff put in a room for you at work?