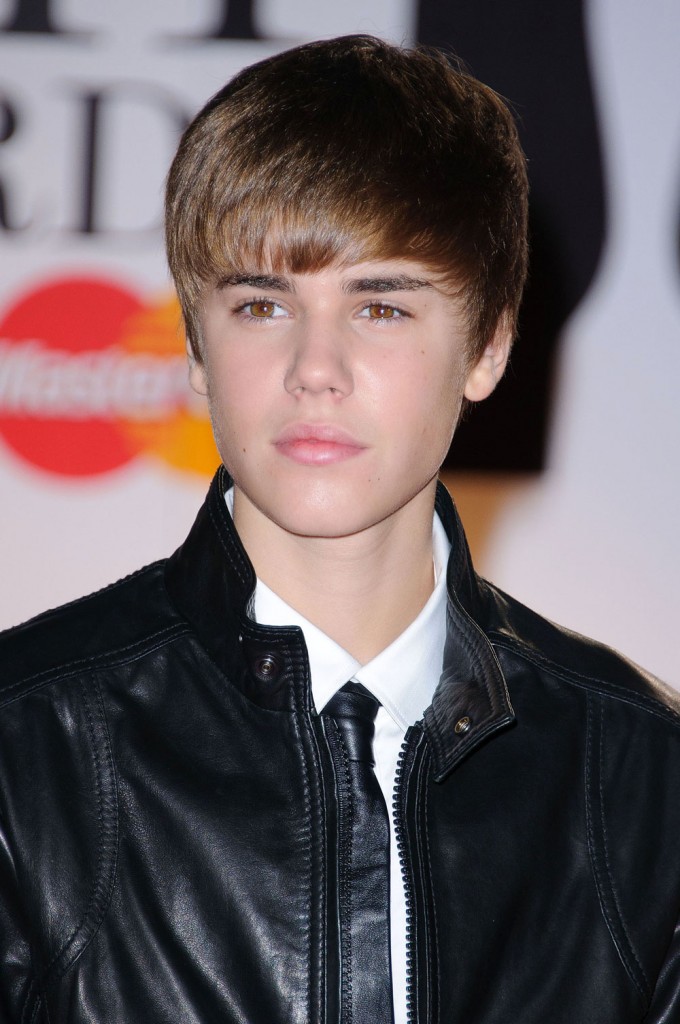 Widdle Justin Bieber is on the cover of Rolling Stone's March issue with his hair all mussed up and a leather jacket hanging off his shoulder. Rolling Stone has put an excerpt online, and Bieber kind of impressed me when he was talking about Canada's healthcare system. He's a religious kid but didn't say teens should wait to have sex until they're married, just until they're in love. He also said he was pro-life and sounded largely clueless when it comes to politics "whatever they have in Korea, that's bad."
On waiting to have sex until love
"I don't think you should have sex with anyone unless you love them," Bieber says. When asked if he believes in abstinence until marriage, Bieber – who is reportedly dating fellow teen star Selena Gomez – seems wary: "I think you should just wait for the person you're…in love with."

Selena Gomez is his computer background
Near the end of their time together Grigoriadis caught a glimpse of Bieber's desktop image on his laptop: It was him and Gomez against an orange sunset. Bieber quickly closed the computer when he noticed that Grigoriadis had seen the picture.

On Canada's healthcare system
The Canadian-born Bieber never plans on becoming an American citizen. "You guys are evil," he says with a laugh. "Canada's the best country in the world. We go to the doctor and we don't need to worry about paying him, but here, your whole life, you're broke because of medical bills. My bodyguard's baby was premature, and now he has to pay for it. In Canada, if your baby's premature, he stays in the hospital as long as he needs to, and then you go home."

On politics and abortion
He isn't sure what political party he'd support if he was old enough to vote. "I'm not sure about the parties," Bieber says. "But whatever they have in Korea, that's bad." He does have a solid opinion on abortion. "I really don't believe in abortion," Bieber says. "It's like killing a baby?" How about in cases of rape? "Um. Well, I think that's really sad, but everything happens for a reason. I guess I haven't been in that position, so I wouldn't be able to judge that."

On his voice changing
Bieber's voice began to change on his last tour. He's now working with a vocal couch, which involves doing 20 push-ups before before a session to warm up his chest. "He's got a nice tone tone to his voice now," says his vocal coach Jan Smith. "It's a good texture, but it doesn't sound like what his fans think he sounds like. He'll get four octaves eventually. He's still young."
[From Rolling Stone]
Did anyone see the episode of "30 Rock" a couple of weeks ago (with Matt Damon!) where Jack and Avery have to have their baby in Canada and get all indignant when they're told it's free? That cracked me the hell up. I liked what Bieber had to say about how healthcare is a basic human right, I'll give him that. He may not have known that there's a North and South Korea, but he thinks people shouldn't go bankrupt to pay for medical bills. I would love it if some conservative pundits go after him for calling the US "evil."
Bieber was also on Chelsea Lately this week. When she asked him how he felt about losing out for Best New Artist category at the Grammys this weekend he tried to be be gracious about it. He said he was upset about it and that "I'm not going to lie, people are expecting me to say something else, but I am disappointed… I'm really excited for her [Esperanza Spalding] she's worked hard?" You could tell he didn't really mean it, but at least he tried. He could have told his fans to step off of her online though.
Bieber also said he knew about the website "Lesbians Who Look Like Justin Bieber" and seemed ok with it but didn't say much. He also confirmed that Willow Smith is coming on tour with him overseas.
I think the kid is a twit with an overinflated sense of self, but he tries. I was ready to rip on him, but after I watched his Chelsea Lately interview I found him kind of funny. He even ripped on Lady Gaga's outfits, calling them "weird," and cracked a joke to Chelsea. She asked him "when do you have time to look at pictures of me," and he said "I do that all the time. The ones with you and 50 [Cent]."
If you don't have time to watch the whole thing, fast forward to 4:00 in to this interview.

Bieber is shown at the Brit Awards on 2/15/11. Credit: WENN.com