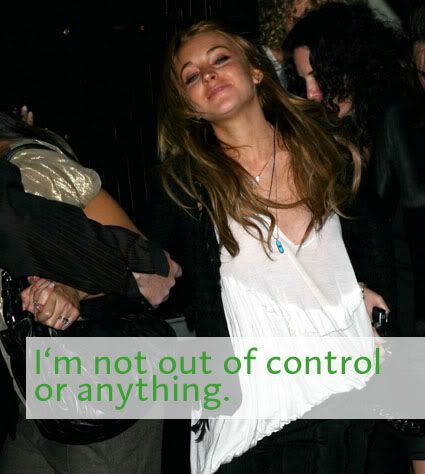 Lindsay Lohan should either keep her mouth shut or try to make sure that people stop making up fake quotes and attributing them to her, because she supposedly slammed Ashlee Simpson for getting plastic surgery. She said that the tabloids didn't pay enough attention to Ashlee's new nose, but that's bullshit because it was all over the place and Ashlee was even forced to admit that she had rhinoplasty.
Lindsay Lohan has blasted tabloids for speculating about her ample chest, after they ""blew off the fact"" concerning Ashlee Simpson's recent cosmetic surgery on her nose.
Lohan, 20, has long been the subject of rumors she has undergone breast enhancement surgery, while Simpson's rhinoplasty operation in April made an obvious difference to her nose and was confirmed by her publicist.
The Mean Girls star believes Simpson's nose job was virtually ignored compared to the amount of media attention her breasts attracted, which Lohan has always insisted are completely natural.
Lohan says, ""It's like when they said I got my chest done and it wasn't true.
""(The tabloids) kind of blew off the fact that Ashlee Simpson got a nose job. I've never done anything.""
Lohan also repeated that lie that her boobs are real, saying she's never done anything. Yeah, she didn't do it, a plastic surgeon did. She's pretty good at arguing the finer points of the truth. Maybe she should go to law school. Oh wait – she'd have to go to college first. (Yeah, I'm blasting the celebrities for lack of education today. It kind of amazes me how popular Lohan and Paris are when they didn't even try to go to college.)
Here are both Ashlee and Lohan outside of club Hyde in Hollywood. They missed each other by a couple of nights and several fistfulls of martinis. Lohan was there on August 17th and Ashlee was there on August 20th. If you saw these pictures of Lohan last week I'm sorry, but I just couldn't resist her drunken mug. Pictures [via] [via] and [via] Thanks to smart for the tip.