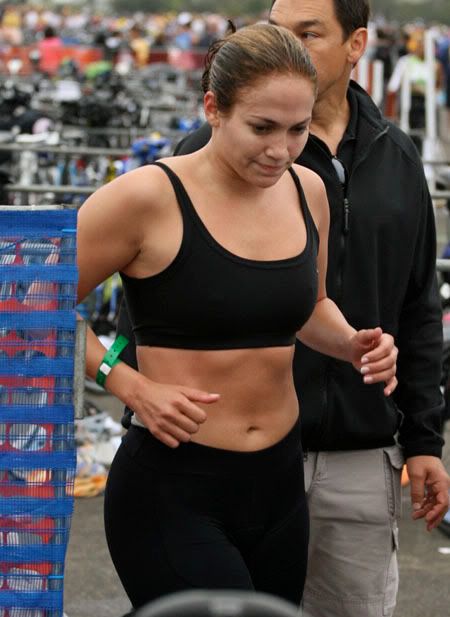 If Jennifer Lopez had a rumored foot or ankle injury that prevented her from judging the Project Runway final she showed no sign of it on Sunday. The 29 39 year-old singer/actress and mother of nearly seven month old twins competed in a sprint triathlon on Sunday in Malibu along with other celebrities like Matthew McConaughey, William H. Macy, Eliza Dushku, Jon Cryer, Scott Foley, and Tiffany Amber Thiessen. The triathlon consisted of "a half-mile ocean swim, an 18 mile out-and-back bike course, and a 4-mile out-and-back run course," according to the official website for the event. Lopez raised $127,000 for Children's Hospital in Los Angeles and completed the course in two hours and 23 minutes. Matthew McConaughey, 38, had a finish time of one hour and 31 minutes:
Jennifer Lopez completed the Nautica Malibu Triathlon in 2 hours, 23 minutes and 38.8 seconds on Sunday.

The singer, 39, pumped her arms in the air and smiled broadly as she crossed the finish line of the swimming-running-biking event.

"Thank you guys so much," she told the crowd. "This is an amazing day.

"I feel really great and so glad I finished and that I made it out of the water but more amazing than that, I feel really great that we raised $127,000 for the Children's Hospital [of Los Angeles] and hopefully it'll go to good use," Lopez added.

Husband Marc Anthony was on the sidelines being supportive. The couple kissed between the biking and running portions of the race.

After finishing, Lopez joined her family and Matthew McConaughey, who came in before her, in the VIP area. McConaughey was accompanied by his girlfriend Camila Alves and their newborn son Levi.

McConaughey's race time was 1 hour, 30 minutes and 44.7 seconds.

Lopez' participation raised $127,000 for the Children's Hospital of L.A. and the entire event raised $950,000.
[From US Weekly]
There was no rest for Lopez after the grueling course. She flew out to NY to celebrate her husband Marc Anthony's 40th birthday party that night.
I enjoyed the photos of the other people that participated, particularly William H. Macy, who looks incredibly buff for 58. Scott Foley and Jon Cryer are also looking good. Some celebrities are wearing medals as they were honored after the event in a special ceremony. Congratulations to all the people who participated and raised money for charity. That's a real accomplishment and it's nice to see the money going to a good cause.
Photo credit: PRPhotos and WENN