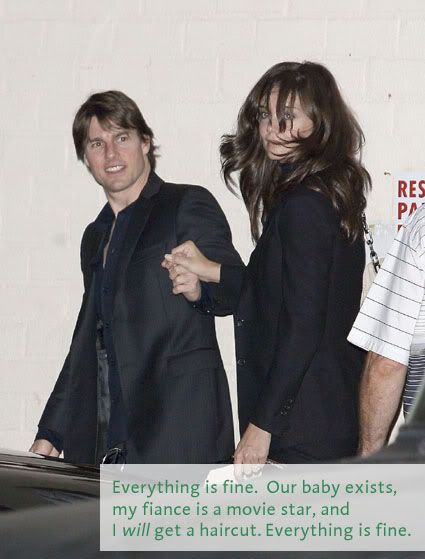 Tom Cruise has been relieved of his contract with Paramount Studios. At first the word was that he'd have to take a paycut of more than 75%, but now the studio is dropping him entirely. Instead of releasing a carefully worded statement that they're cutting costs and have enjoyed working with Cruise, which is undoubtedly forthcoming, the head of Viacom, Paramount's parent company, told the Wall Street Journal that Tom's behavior was unacceptable!
"As much as we like him personally, we thought it was wrong to renew his deal," Viacom Inc. Chairman Sumner Redstone told the Wall Street Journal in an interview posted online.
"His recent conduct has not been acceptable to Paramount."

Paula Wagner, the actor's longtime partner in his movie company, Cruise/Wagner Productions, struck back at Redstone, calling his comments about the three-time Oscar nominee "offensive" and "undignified."
"Whatever remarks Mr. Redstone would make about Tom Cruise personally or as an actor have no bearing on what this business issue is," she told Reuters. "There must be another agenda that the studio has in mind to take one of their greatest assets and malign him this way."
Five films starring Cruise and co-produced by his company, including the "Mission: Impossible" series, have generated theatrical revenues totaling over $2 billion worldwide during the past decade. And Wagner said his films accounted for about 15 percent of the studio's overall box office gross over that period.
Moreover, Wagner insisted that she and Cruise chose to leave the Paramount lot and establish a new venture financed through a private, revolving equity fund of $100 million.
"We in fact made a decision not to continue our relationship with Paramount Pictures," she said.
Tom has got to be pissed. He travelled around the world in a crazed frenzy to promote MI3, all while supposedly having a non-existent newborn at home. That's not enough for Paramount, because they want a star with average ambition and a verifiably normal home life.
A little more including pictures of Tom and Katie out to dinner are after the jump.

Tom will continue to be richer than sin even if he's no longer working. We'll probably see his face on screen again soon, though. If he's "establishing a new venture" as his business partner insists that must mean that they're going to start their own production company. Tom should stick to acting and not try to direct though. "Battlefield: Earth II" probably won't do that well at the box office.
Here are Tom and Katie outside Maestro's steakhouse in Beverly Hills on August 19th. [via]