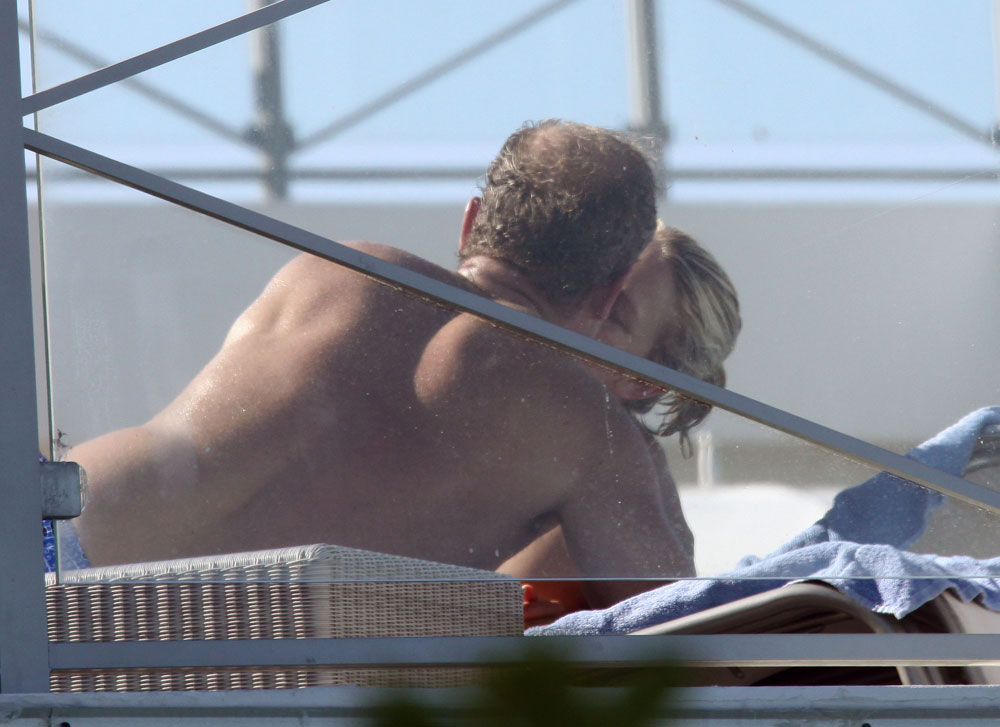 I wonder if I should have put "warning" in the title, but I think the title is warning enough. Here's just-divorced Kelsey Grammer, 55, kissing his 28 year-old British girlfriend poolside on a "pre wedding getaway" in Miami. I'm sure it's correct to assume that Kelsey called the paps, since he needs publicity for whatever reality show he's going to parlay this jump off relationship into. As Lainey Gossip mentions, these photos are a bleak reminder of the reality of a 28 year-old hooking up with a man old enough to be her daddy. (Who just happens to look like he could be. Oh and the photos at Lainey Gossip are grosser.)
In news about Kelsey and his ex wife, Camille, In Touch reports that the former couple's children are split up between the two with son Jude, 6, staying in New York with Kelsey and daughter Mason (yes, that's her name), 9, staying with her mom and four nannies in Beverly Hills. They also claim that Camille had a fling with a "rocker." Here's more:
Their kids [are] 3,000 miles apart on opposite coasts. "Jude has been staying with Kelsey and Kayte in New York since early January. He'll stay with them through the wedding and then return home," an insider tells In Touch. "But Mason is still with Camille in California. She's furious with her dad and refuses to have anything to do with Kelsey's wedding to Kayte."

Meanwhile, Camille, 42, is trying to move on… [she] recently re-entered the dating pool. "She briefly dated a rocker friend of Tommy Lee's," says the insider.
[From In Touch, print edition, February 28, 2011]
I don't see Camille going for a rock type as she likes clean cut men like her boy toy Nick. Maybe she will go for anything at this point. She certainly seems to flirt with all men indiscriminately.
So if Kelsey and Kayte are in Miami where is his son Jude? Did he come with them with the nanny or stay back in New York with the nanny? I think it's safe to assume wherever these kids are they don't get much time with their parents.
Kelsey and Kayte are due to be married next Friday, February 25, in New York. Will they sell the photos? Need I even ask?
Photos are from 2/17/11 (Miami, Credit: Fame) and 2/13/11 (New York event, Credit: WENN.com)