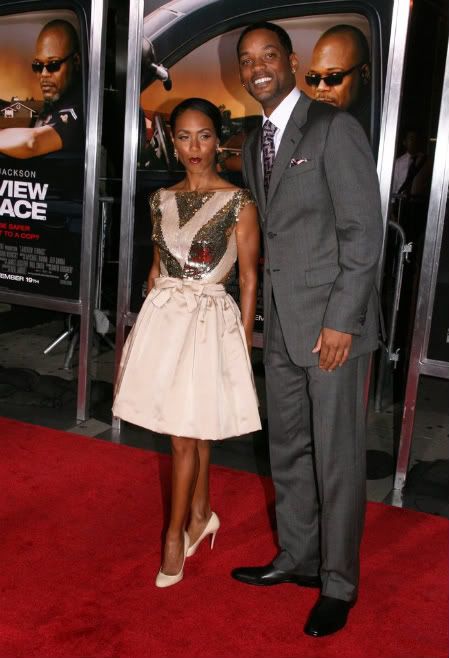 Will Smith has spent a good deal of time defending his Scientology-based school from claims that it's… a Scientology school. You could see how people might think that. This weekend Smith repeated that although the school has some Scientology-based teaching methods, he himself is not a Scientologist.
Unlike a lot of other celebrities, Smith actually seemed a little open and willing to talk about it. He also confirmed that he spoke with the anti-Scientology group Anonymous – and even the group seems to be slightly less skeptical about Smith.
This year, news broke that Will had funded a school in suburban Los Angeles that used one of Scientology's study programs. It seemed like Will and Jada were making a statement. But they didn't actually make a statement.

Monday night, I ran into Mr. and Mrs. Smith at the premiere of "Lakeview Terrace," which Will has produced with partner James Lassiter. Jada was there, too. And here's the thing about Will and Jada: they are immensely likable. They are incredibly gracious … I told him I'd heard he'd given a press conference to the group called Anonymous, which protests Scientology.

"Not exactly a press conference, but I did talk to them," he said. Mind you, Will had just gone to the buffet and was carrying a plate of food. This was up at the swanky new Empire Hotel rooftop following the premiere of "Lakeview," which stars Samuel L. Jackson and Kerry Washington. So, what's the story? Is Will a Scientologist? "I am not," he told me. The school is using one of Scientology's teaching tools, but Will said, "You can take different parts of things you like and put them all together."

This is similar to what he told the Anonymous people (who remain, I presume, unknown). In their recent press release, the group said, "We appreciate Will's interest in our efforts and his openness in speaking with us directly. It shows his concern both as a parent and educator.

"Anonymous is hopeful that NVLA will take the great strides necessary to correct for the deficiencies in Scientology's Study Tech, or abandon them altogether. We will be keeping an eye on the situation to make sure that NVLA lives up to the goals Will Smith has for it, which include keeping the Church of Scientology out of the classrooms."
[From Fox News via the Huffington Post]
I'm not sure if I buy that reasoning, but I think it says a lot about Will Smith that he actually spoke to Anonymous. I have yet to hear about anyone else doing that. I've never been able to figure out where Will stands on the Scientology issue. If he's such a fan of it, why doesn't he join the cult? Some people say he has, but again – if he had, why lie about it? Sure, it's not good for his career, but it's debatable whether it'd be significantly worse than the associations he already has with them.
Either way, it does speak better of Smith that he spoke with Anonymous and doesn't get all haughty about Scientology like BFF Tom Cruise.
Here's Will, Jada , and Caleb Pinkett at the New York Premiere of 'Lakeview Terrace' yesterday. Images thanks to WENN.