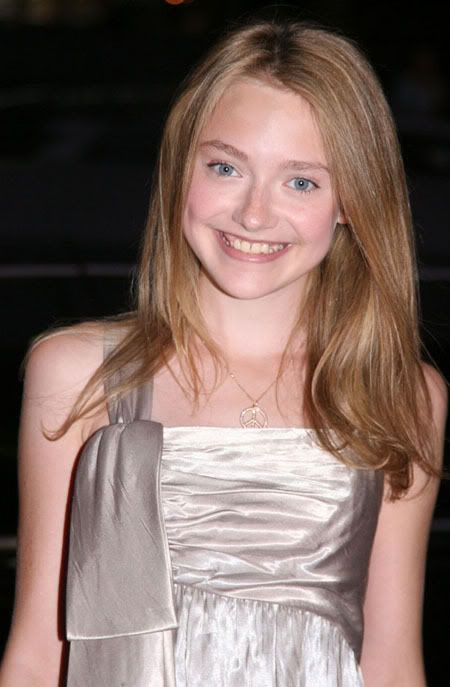 In May we ran a story about how grown up child actress Dakota Fanning, 14, looks. Dakota is the same age as Ali Lohan, but she manages to look very pretty yet age-appropriate at the same time. At the premiere of her controversial film Hounddog last night in NY, Fanning wore black patent peep-toe wedge heels and a silver satin strapless top over black skinny jeans. She had on minimal makeup and wore her hair long with a little volume.
Fanning's schedule is busy. She has the Secret Life of Bees coming out this year, two films in post production scheduled for release next year, and another in the works. She's sure to get more offers for projects soon. I'm really impressed by this girl and you can see how she will mature into more adult roles. She may very well win an Oscar before she's 20. Somehow she's managed to preserve her childhood despite a busy Hollywood career and she'll hopefully stay grounded throughout her teen years.
Hounddog premiered at the Sundance film festival in 2007 and includes an infamous scene in which Fanning's young character is raped. All that is shown is her face, but the inclusion of the scene is said to have scared off investors and caused production and distribution to be delayed multiple times. It is finally out in the US in limited release this Friday, September 19.
Photo credit: PNP/WENN