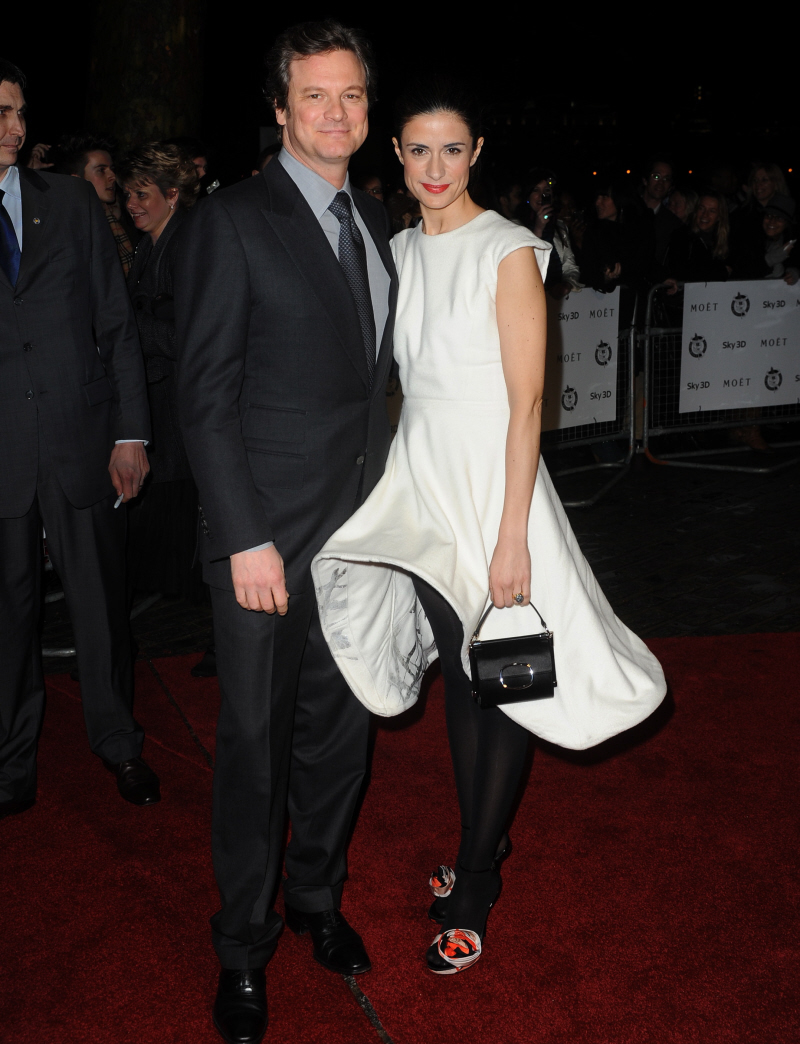 I really can't get enough of Colin Firth. I have to say, he's played his Oscar campaign beautifully. He comes across as humble, genuine and kind, and he's peaked at just the right moment. If he doesn't win the Oscar on Sunday, I'm going to throw a fit. But I think Colin is one of the safest bets – everyone loves him, and everyone is rooting for him. Anyway, during Colin's sit-down with Piers Morgan, he revealed the secret to his 15-year marriage: the realization that his wife is "the most beautiful woman in the world," and that no other woman could compete. Aw…
He is a famous handsome actor who possibly has an Oscar on the horizon for his role in The King's Speech. And with fame comes attention, especially from the female quarter. But happily-married Colin Firth insists that he is a one-woman man, and would never cheat on his wife of 15 years, Livia Giuggioli. In fact the 50-year-old actor says the thought of his gorgeous wife helps him ward off the throngs of female fans.

He revealed that every time he meets another beautiful woman, he only has to think of his stunning 41-year-old wife. Speaking on Piers Morgan tonight, he opened up about his relationship with Livia.

'It does help to actually realize that however stunning the person who is, you know, fluttering eyelashes at you, she doesn't do anything to match up to your wife… Maybe it's shallow of me to have a wife that's so beautiful but it makes things easier. To me she's the most beautiful woman in the world.'

Colin admits that the pair's marriage has surpassed the expectations of a normal Hollywood marriage.

'We've made it 15 years together … I think that is pretty good going in Hollywood standards. And it's going to go on forever.'

The British actor said that he and his wife make sure that they take time out to be together in order to keep their relationship strong.

'You just navigate things on a daily basis,' he said. 'We are crazy bout each other. But the real secret is time – we have to make sure that we spend enough time together. Every relationship in life you're going to have to take care of, there's a marathon factor to it.'

Colin and Livia met in Columbia on the set of Nostromo in 1995, where Livia was a production assistant. They married in Tuscany in 1997 and split their time between homes in Italy and London. The couple have two sons, Luca, 10 and Matteo, seven.

And while Firth has been stock-piling awards for his role in The King's Speech, his wife Livia, has created her own buzz on the world's red carpets. The eco-store owner challenged herself to wear only ethical, environmentally-sustainable style for the premieres and awards shows she was attending with her husband. The mother-of-two's outfits have not only been eco-friendly but dazzling, too. And for the Oscars it will be no different. The Italian beauty is planning to wear a recycled dress which has been sewn by British designer Gary Harvey.

Livia, who has a blog on Vogue.com entitled The Green Carpet Challenge, recently told the fashion magazine: 'Without doing the big reveal, I can tell you that Gary's design is made from 11 different dresses. He has scoured south-east London for the right pieces.'

Colin is favourite to scoop Best Actor at the Oscars in Hollywood this Sunday for The King's Speech.
[From The Daily Mail]
If it was anyone else, I might be thinking "yeah right." But I buy it for Colin and Livia. I buy that he completely adores her and I buy that he's not screwing around. Maybe the "Decent Family Man" thing is an act, I don't know. But I'm buying it.
Oh, here's the video of Colin's appearance on 60 Minutes over the weekend. In the last section of the piece, that's when Colin talks about why he did Mamma Mia, and says: "I am such a drag queen. It's one of my primary driving forces in life. You cannot dangle a spandex suit and a little bit of mascara in front of me and not just have me go weak at the knees." Jesus, THIS MAN.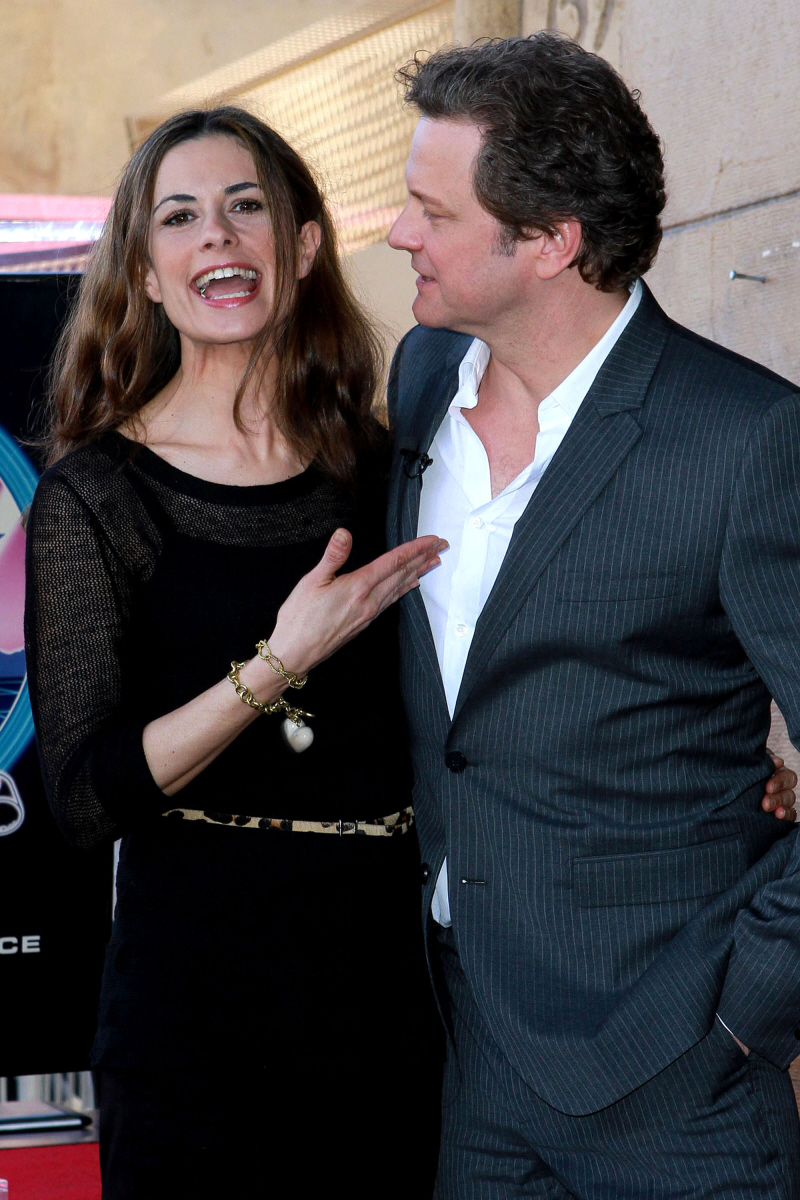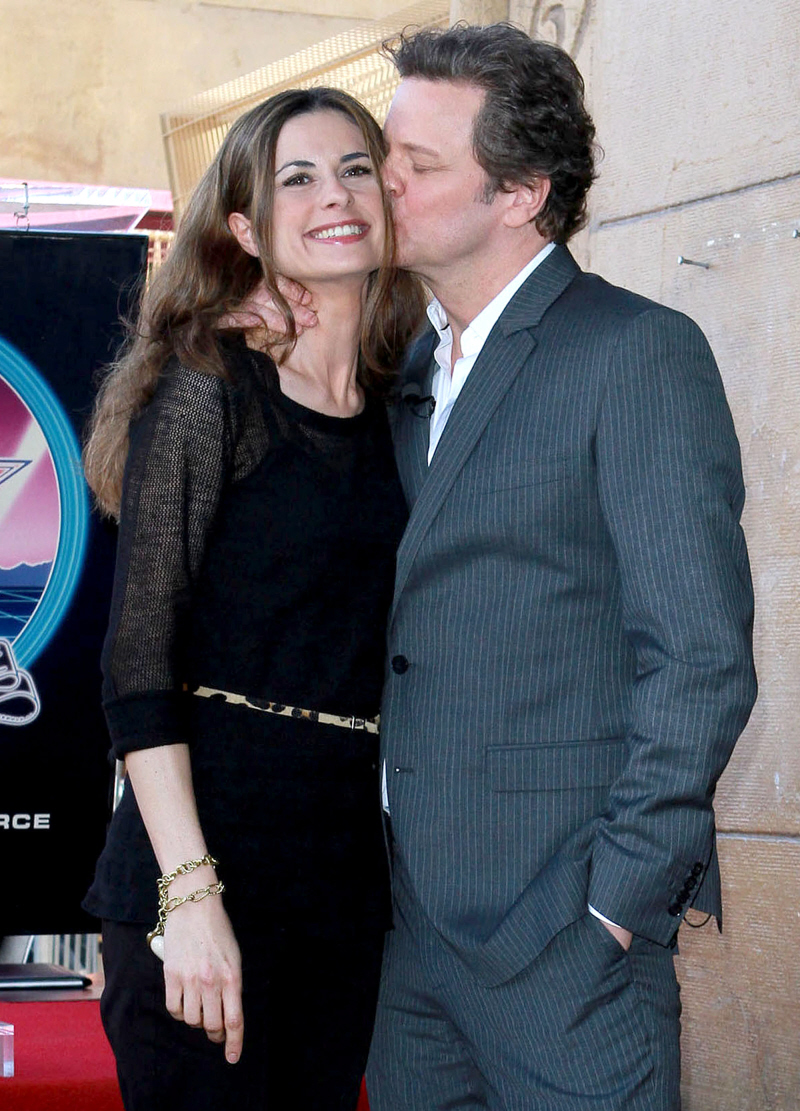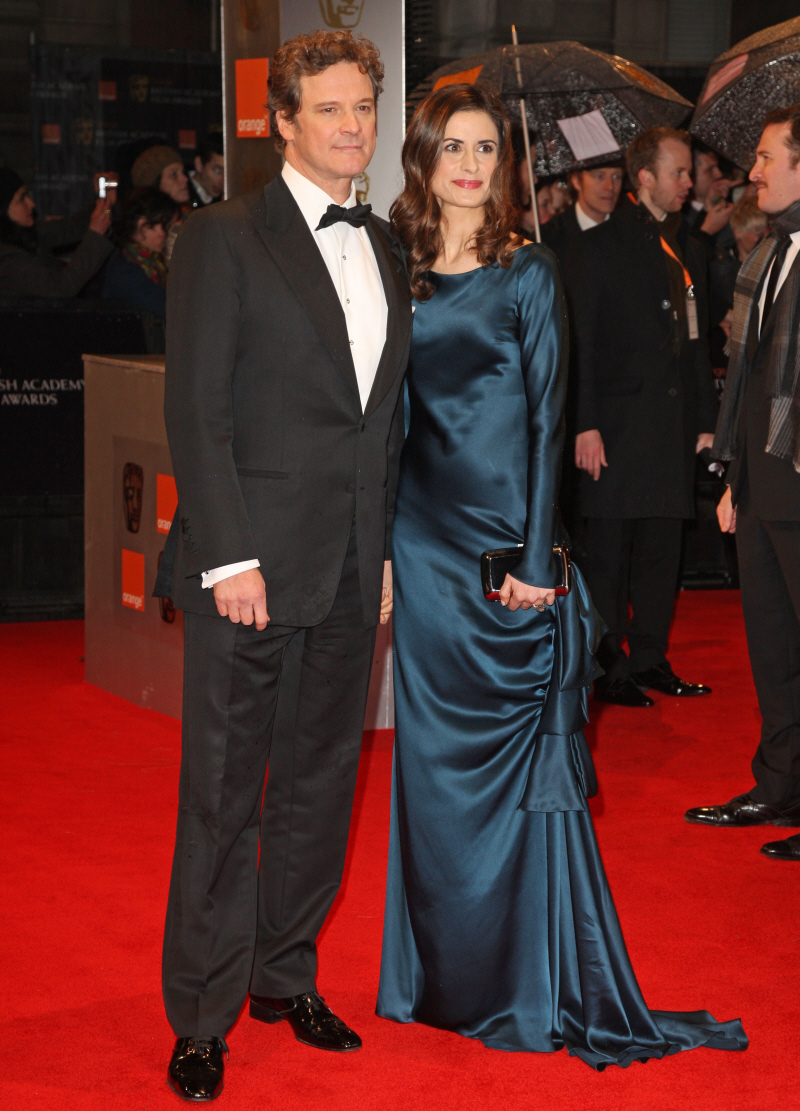 Photos courtesy of WENN.