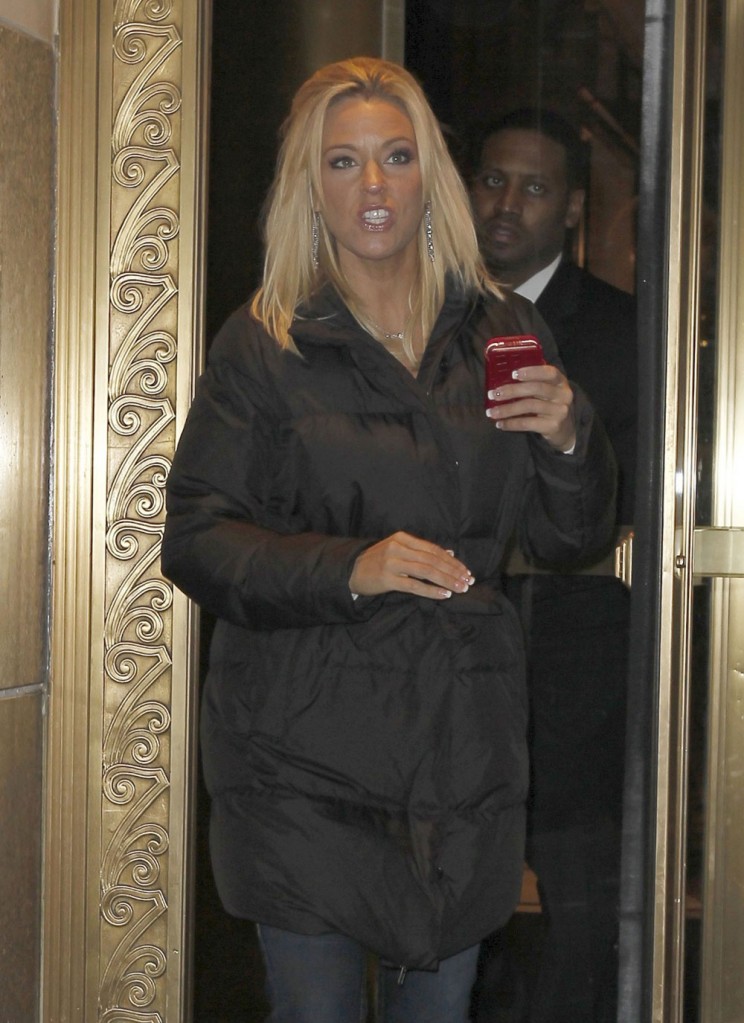 A couple of days ago, Jon Gosselin was photographed "hard at work" installing solar panels on a building for his new job in construction, having quit the office job he was so proud of because it involved "too much travel." I contemplated running that story, but then figured that Jon Gosselin would get plenty of other jobs over the next year. Well now Jon supposedly wants Kate back, probably because she was so good at helping him make minor everyday decisions that he finds perplexing on his own. Plus there's the whole issue of Jon's standard of living decreasing dramatically now that he's on his own and completely unable to hold down a basic job or manage his money. Popeater has this story, along with the news that Kate supposedly is on board with this idea, because she misses the life she had with Jon before she was forced to become a "single mom" pulling in hundreds of thousands for the few times she bothers to interact with her kids.
"They both realize how much they miss each other," a friend of the couple's tells me. "Neither one of them have been really happy since their ugly split and would love to turn back time to the point where they were both in love before fame took over."

Jon recently traded his Ed Hardy shirts for a hardhat and scored a job with Green Pointe Energy, a Pennsylvania-based renewable energy company. The former reality star and computer techie spends his days installing solar panels and doing other good-for-the-planet deeds.

"Jon is in a great place," a friend of the father of eight told me last month. "He is happy and knows what a fool he made of himself after his split from Kate…"

So after the ups and downs of 2010, the couple have found peace again, especially now that the cameras have gone away. As everything has started to return to normal so have Jon and Kate with Jon now working in green construction and Kate turning to being a full-time mom again.

"After the split the both of them were out of control. Kate thought she was going to be dating Brad Pitt, and Jon was sure he was going to be a superstar. Neither one of them found what they were looking for when they were single and have both come to the conclusion that maybe they are right for each other."

Plus, it wouldn't hurt ratings on next season's show! Just saying …
[From Popeater, Rob Shuter's column]
This story is probably from Jon's camp, because he didn't get enough press for those very staged photos of him smoking on the job. It makes me wonder if he's still with the last coed he hooked up with, that Ellen chick who had an advice column online. She still has a photo of herself with Jon on her website, but it's pretty far down the page. I would bet that she kicked him to the curb and that Jon is considering going back to Kate in order to quit having to worry about paying his bills. Plus it might absolve him of the $10k a month child support payment he's surely unable to make. I could see Kate acting on camera like she's taking him back without really letting him do more than live above the garage again while her lover/bodyguard stays in the house. If welcoming Jon back breathes new life into her rapidly fading reality show she'll probably consider it. She'll do anything to increase her long over 15 minutes.
Kate Gosselin is shown on 12/1/10. Jon is shown on 11/29/10. Credit: Fame