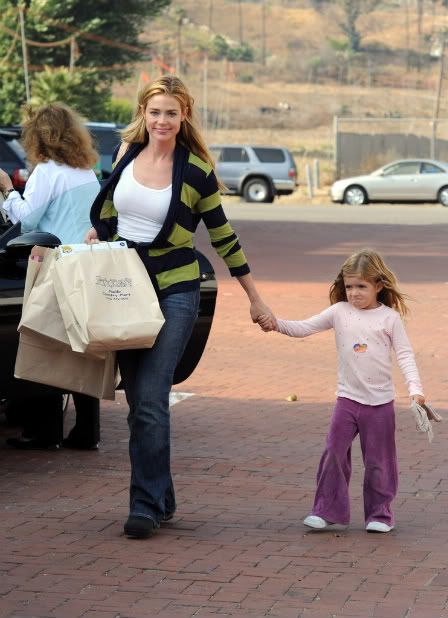 I know you've all been waiting with bated breath to hear the official word.  You can all breathe with ease again, Denise Richards and family have been renewed.  Denise told Us Magazine that her reality show on E!, It's Complicated, has been renewed for a second season and they will start filming again in a few months.
Denise has been criticized, most ardently by ex-husband Charlie Sheen and his new wife, Brooke Mueller, for including the couple's girls, Sam, 4, and Lola, 2, in the show.  It's Complicated follows Denise as she tries to reclaim some respect in Hollywood and raise her daughters.  I would have told her the first thing on the list to successfully do either would be not do a reality show that follows you around while you try to reclaim some respect in Hollywood and raise your daughters.  But my idea of respect and successful parenting don't include Ryan Seacrest, so Richards and I have different values.
"They (Sam and Lola) weren't there 24/7, we definitely have set hours," Richard said. "They have been around this since they were born so they were just happy momma was home working."

Sam and Lola recently started preschool.

"They are only gone for a couple hours a day but its surreal to me how quick they have gone from babies to preschool," Richards said.

As for Richards' dad who is a regular on It's Complicated?

"He was driving home on the freeway and a group of girls had him roll down his window and they yelled, 'I love your show!'" Richards said. "He doesn't know how funny he is. He thought they would only want him for one episode. He is hilarious!"
[From US Magazine]
Irv Richards really is the best part of that show.  He's obliviously unpretentious.  Most episodes show him steamrolled by his daughter, but not because she's a celebrity.  Irv is a dad who dotes on his daughter so much he just doesn't have the heart to say no.  Some might say that's bad, and that it explains alot about his daughter, but he's just so darn sweet, it's impossible to feel negatively toward him.
Actually witnessing Sam and Lola smiling now and then is the only other reason I can recommend watching It's Complicated.
Denise Richards is shown shopping on 9/12/08. Credit: Fame