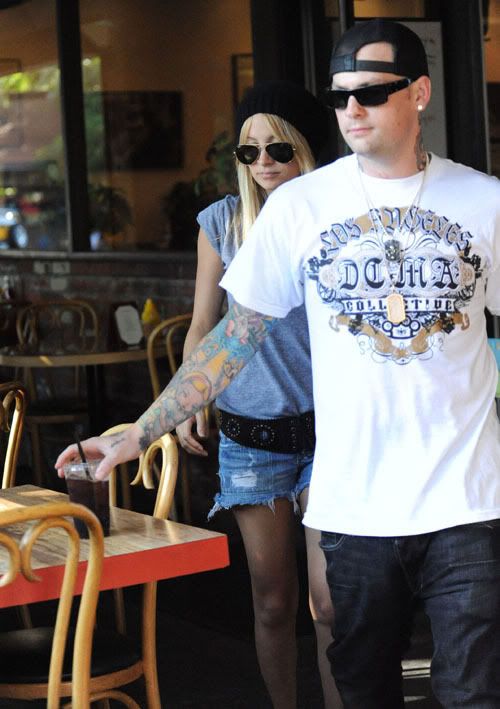 Every week, a different tabloid is reporting on the shaky relationship of celebutante Nicole Richie and her baby's father, Good Charlotte rocker Joel Madden. Seems like every time Madden gets his picture snapped with another female – whether it's Lindsay Lohan or Mary Kate Olsen – it means he's cheating. This week's sage comes to us courtesy of Star Magazine, who is claiming that Joel's latest dalliance is with Mischa Barton.
After a bitter fight with Joel Madden, Nicole Richie packed her bags — and their daughter! — and headed to her mom's. But things only got worse when she caught Joel with… Mischa Barton.
For months they'd been fighting over everything from marriage to moving, but Nicole and Joel's strained relationship hit a new low when, during yet another battle, she screamed at him, "We're through," and fled to her mother's home, taking their daughter, Harlow, with her, a friend tells Star. Although Nicole returned the next day, "This was her way of sending Joel a message," says the pal. "Nicole loves him, but things need to change."

Days after their big blowup, things were no better, so Nicole once again walked out on Joel — jetting to New York City, with Harlow in tow, for Mercedes-Benz Fashion Week. She wasn't alone for long. Joel followed her to the Big Apple, and the quarrelsome couple made a brief yet disastrous appearance at the Charlotte Ronson afterparty at Country Club on Sept. 6. "She was just in a miserable mood, and there was obvious tension," an eyewitness tells Star. "I didn't see her talk to Joel the entire night, and it seemed like he was avoiding her too. Nicole was just so angry!"

The next day, it was Joel's turn to walk out on Nicole! He headed back to L.A., where his band, Good Charlotte, performed that night at an MTV VMAs party at the Chateau Marmont hotel. And despite his relationship with Nicole hanging by a thread, Joel partied like he didn't have a care in the world — with Nicole pal Mischa! Days earlier, Mischa had broken up with boyfriend, Taylor Locke and that night she was front-row center at the show, dancing seductively for Joel, says a source. "He kept checking out Mischa and smiling at her."
If Star and all the other tabloids were correct, then Nicole and Joel have broken up about 50 times by now. Remember the frenzy over the photo of Joel sitting on a couch with Lohan? Of course, the tabloids had cropped the photo so we couldn't see her girlfriend, Samantha Ronson, sitting on the other side of him. Don't get me wrong – Joel does strike me as a bit of a flirt, but so does Nicole. Besides, taking up with Mischa Barton would be a serious downgrade – I don't believe it. Just picturing the former OC star "dancing seductively" makes me feel nauseous.
Nicole Richie and Joel Madden are shown leaving a deli in LA on 9/5/08. Credit: Homero Tercero/WENN