Which Hollywood actor would you guess is worth the most money – Brad Pitt? Tom Cruise? Guess again. According to a new report in In Touch magazine, the wealthiest actor in Tinseltown is Will Smith. Smith is now the highest-paid actor in Hollywood, earning commanding $80 million a picture $80 million last year. But hip-hop producer and artist Jay-Z has Smith beat: he made $83 million last year. His wife, Beyonce, made $80 million, making them the "Richest Power Couple" on the list.
Simon Cowell was named the "Richest Reality Star," raking in $50 million a year for being a judge on "American Idol," as well as producing "The X Factor" and "America's Got Talent." "Two and a Half Men" star Charlie Sheen is the highest paid TV actor, followed closely by Hugh Laurie of "House." And the richest teen, of course, is Miley Cyrus, who is giving the Olsen twins a run for their money by earning a $25 million salary for her show, "Hannah Montana." That doesn't include the percentage she earns on merchandise sales – which total $1 billion world wide- as well as the $17.5 million she took in for her "Best of Both Worlds" tour.
Mel Gibson was named "Richest Land Owner," thanks to his $30 million estate and a $37 million church he owns in Malibu, a $35 million compound in Connecticut, a $25 million ranch in Costa Rica (where he hosted Britney Spears this summer) and- get this- his very own private island in Fiji. Former model and mini-TV mogul Tyra Banks was named "Biggest Cheapskate," (ha!), and Katie Couric, believe it or not, is still the "Richest News Anchor," while actress Cameron Diaz beats both Angelina Jolie and Jennifer Aniston as the "Richest Actress." Mysteriously enough, Diaz made $50 million last year. And of course, Madonna tops the list of "Female Pop Divas," making more than $72 million last year.
Of course, none of these actors even comes close to what talk show host and media mogul Oprah Winfrey makes – she pulled in a staggering $260 million last year thanks to her show, her magazine empire and her radio show and TV network. Better get back to work, Will!
Even more fascinating is the magazine's report on the "poorest" stars. They defined them as working actors/performers (not has-beens like Willie Aames or Gary Coleman), and some of the people on this list might surprise you.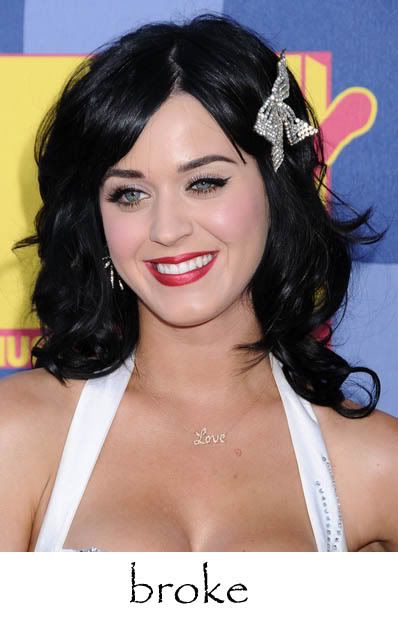 After the spring cancellation of her show Men in Trees, Anne Heche said she could no longer pay the $15,000 a month in child and spousal support awarded to her ex-husband, Coley Laffoon, the father of her 6-year-old son, Homer. "I am continuing to look for work, but no offers are pending," Anne said in court papers.

Katy Perry's "I Kissed a Girl" was the hottest song of the summer – but by the time fall rolled around, she still hasn't seen a dime from it. On Howard Stern's Sirius radio show, Perry admitted that "the money is still not coming in yet."

[Lindsay Lohan] has raked in $15 million as an actress and a product pitchwoman. But Lohan has managed to spend a lot more than that. With expenses like $1 million on beauty treatments, $1 million for stays at the Chateau Marmont, and $10,000 a night on drinks during her pre-rehab days (rehab alone cost more than $310,000), it's no wonder she is now on a strict budget.
[From In Touch print version, Sept. 29, 2008]
Ok, Lohan being broke doesn't surprise me – but I was surprised to hear that Katy Perry hasn't gotten a dime for her monster hit song. I actually feel kind of badly for Anne Heche. I always imagine that these celebs have tons of money and a financial advisor who makes sure it doesn't run out – who would have thought that actors are living paycheck-to-paycheck just like the rest of us?
Will Smith photo from 9/15/08 at the "Lakeview Terrace" premiere. Lindsay Lohan shown at the VMAs on 9/7/08. Credit: PRPhotos. Beyonce and Jay-Z image is old and from 10/5/05. Credit: Fame.