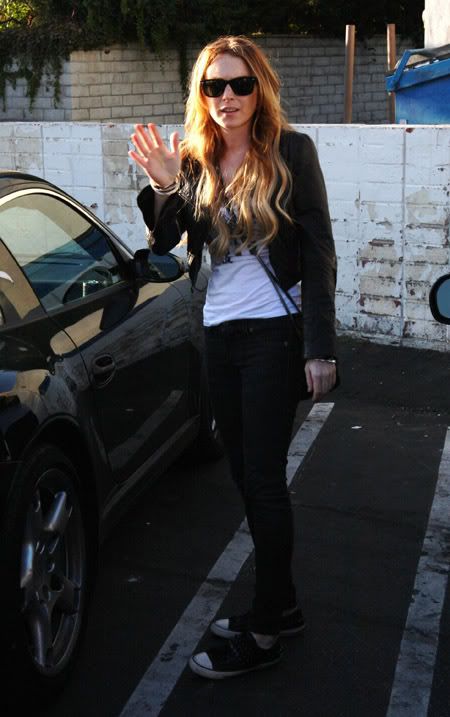 Lindsay Lohan continues prancing about in her happily delusional existence. The entire Lohan family seems to have always had a much higher opinion of themselves than everyone else does. Lindsay's parents are forever admonishing any and everyone for even the slightest negative statement about any of their kids. Basically if you have the audacity to have an opinion that differs from theirs, you're gonna hear about it.
This attitude seems to have fostered in Lindsay the belief that she is much, much better than she is. I'm really going to do my best here to go with the theory that Lohan's delusions of grandeur are her parent's fault. Lindsay has such a high opinion of herself that she plans on buying an apartment in the famous Dakota, the legendary Manhattan building where John Lennon lived (and Yoko Ono still lives to this day).
SMITTEN LINDSAY LOHAN is buying a £2.5 million love-nest for her and lesbian partner SAM RONSON.

The pair plan to live it up in a penthouse in the famous Dakota building in New York. Residents in the block—where JOHN LENNON lived—are against the move because they don't want all the hoo-ha it's likely to bring.

But LiLo is forging ahead with plans and is in talks with a top interior designer.

She wants a garish 12ft circular bed with leopard-print headboard, "Hers and Hers" monogrammed towels, separate pink and black bathrooms, and a sitting room with DJ area and a huge glitterball.

My source revealed: "Lindsay's had her eye on the Dakota building for years.

"It's an iconic building and she's not bothered about the complaints from residents. She plans to make it a hotbed for parties."
[From News of the World via Contact News]
Good luck Lindsay. Normally I'd dismiss this story as hogwash – which it may very well be. But Lindsay is so crazily narcissistic and full of her self that I think if anyone would believe she could buy an apartment in the Dakota, it'd be her. While I couldn't find out if the building was a co-op, it certainly has some type of tenants' board that could block someone like Lindsay from purchasing a place there. And more importantly, while she may have had her eye on the building for years, so have a lot of other New Yorkers. Ones much better fitting to the building. I have a better chance of walking into Yoko Ono's apartment and telling her to give me the keys – and getting them – than Lindsay has of buying a place here.
Plus a billion tour buses go by every day. You know LiLo would hate the attention.
Lindsay Lohan and Samantha Ronson are shown shopping at Fred Segal yesterday, 9/21/08. They may look upset due to the news about Travis Barker and DJ AM's tragic accident. Credit: WENN