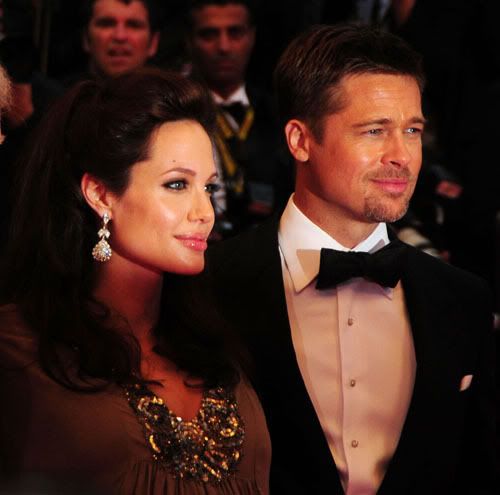 Brad Pitt, Angelina Jolie and their six children landed at Tempelhof airport in Berlin at around 3:30 in the afternoon yesterday. They seem to have evaded photographers as I was unable to find photographs of their arrival in the German press or photo agencies. The famous family has rented a 130,000 square foot property complete with three mansions in the Wannsee area for 90 days. Wannsee is a picturesque and exclusive area in the Southwest of Berlin situated on two lakes, Kleiner and Grosser Wannsee (Small and Large Wannsee). The property is decked out with a state of the art security system. According to German reports, they have 14 body guards, 3 chefs and 2 nannies on campus. There are said to be 10 luxury cars at their disposal.
Brad is due to shoot the film Inglorious Bastards with director Quentin Tarantino in Potsdam, about a half hour drive southwest of Berlin. It also stars German actress Diane Kruger from Troy. His film Burn After Reading opens in Berlin October 2 and there is speculation that he may attend the German premiere next Wednesday.
Our favorite German paper, Bild, has the news. (Note that while this article says a staff of 14 including 2 nannies, the German version clearly says that there are 14 bodyguards plus additional staff. I have e-mailed them for clarification and am waiting to hear back. Update: Bild has confirmed that the German version is right and that it is 14 bodyguards plus additional staff.)
Angelina (33), Brad (44), and their six children landed at Berlin's Tempelhof airport on Tuesday afternoon to move into the swanky 'Palais Parkschloss' house on the shores of the Wannsee lake on the outskirts of Berlin.

Hollywood superstar Brad Pitt is set to begin work on the new Quentin Tarantino movie, 'Inglorious Bastards', in three weeks. Until then, it looks like he and Angelina will be relaxing in Berlin, where the two have been spotted many times before.

There should be more than enough room for Brangelina and their brood in the 12,000 square-metre villa. A private helicopter landing pad, dock, and full security system are all part of the package.

A staff of 14, including two nannies, are also on site to oversee the entire operation. With their help, maybe Angelina Jolie will be able to handle her new job as mum, which she has reportedly been struggling with.

The glamorous couple's new Berlin residence has a star-studded past. In 2001 actor Steven Seagal (58) rented out the same villa for two months and caused thousands of dollars worth of damage.
Since then, the mansion has been revamped but who knows what condition it will be in when Brangelina and their brood take off again. After all, with six kids, there's bound to be some damage…
[From Bild.com]
The German version of this article in Bild notes that the Jolie-Pitts have installed a 2.5 meter (8 foot) sheet to protect the property from the paparazzi. Their security system includes motion detectors, security cameras and floodlights. The Jolie-Pitts, their six children and full staff will have plenty of room in those three big mansions. They have about 30,000 square feet of living space.
It looks like the family is going to stay together while Pitt films outside Berlin. We'll have to see whether they'll stay a full three months and if they return to France or to Brad's mansion in the Los Feliz area of Los Angeles, which is said to be undergoing renovations in preparation for their possible move back stateside. Angelina's film The Changeling opens in the US on October 24th and it is thought that she will attend the premiere, which may well be her first public appearance after the birth of her twins on July 12.
Thanks to Bild for the photo of the property below. Photos of Brad and Angelina are from Cannes at the Changeling premiere on 5/20/08. Credit: WENN