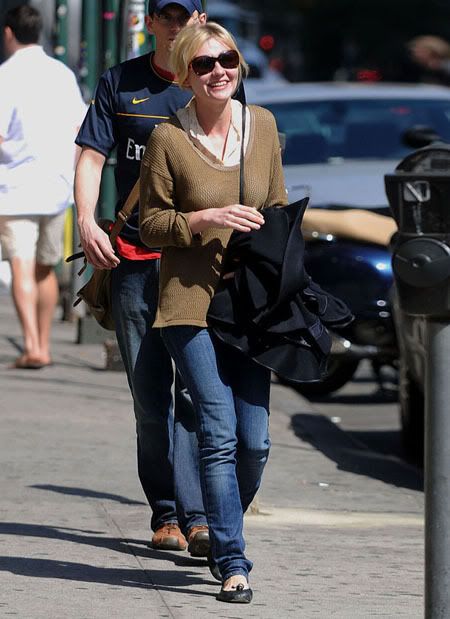 In news that will surprise no one, Kirsten Dunst, 26, and Justin Long, 30, have ended their relationship of a scant few months, according to insiders quoted in In Touch. The two were seen out together often this summer, but Kirsten denied knowing Long in a recent interview with Harpers Bazaar. If she was with him at the point when she gave that interview, it looks like it was a wise decision to deny it.
Just two weeks after Drew Barrymore and Justin Long broke up, he was spotted getting cozy with Kirsten Dunst. But after two months of dating, Justin and Kirsten, 26, have split. "They are taking some time off for now," reveals an insider. Kirsten, who also dated Fabrizio Moretti, another of Drew's exes, ended the relationship. Still, the insider insists that there is no bad blood between the two: "Kirsten gets bored really easily and she needs a break from men right now. They are still both friends and will hang out." Meanwhile, a rep for Justin says that he and Kirsten have always just been friends.
[From In Touch]
Kirsten is said to have been in a minor awkward run-in with Justin's other ex, Drew Barrymore, backstage at Saturday Night Live over the weekend. The two ran into each other and gave each other the evil eye or something – it's unclear in reports – before they were separated by James Franco.
Kirsten has been looking a lot happier in recent candids and I hope she's in a better place in her life despite the fact that I general have a pretty high level of indifference for her. She seemed to be changing to the level where she was nearly tolerable. I hope this breakup, if it's true, doesn't make her backtrack to her surly ways.
From the look of these candids, taken Saturday in NY's East Village, she should be fine. She may have even scored another guy.
Credit: FPZ/Fame