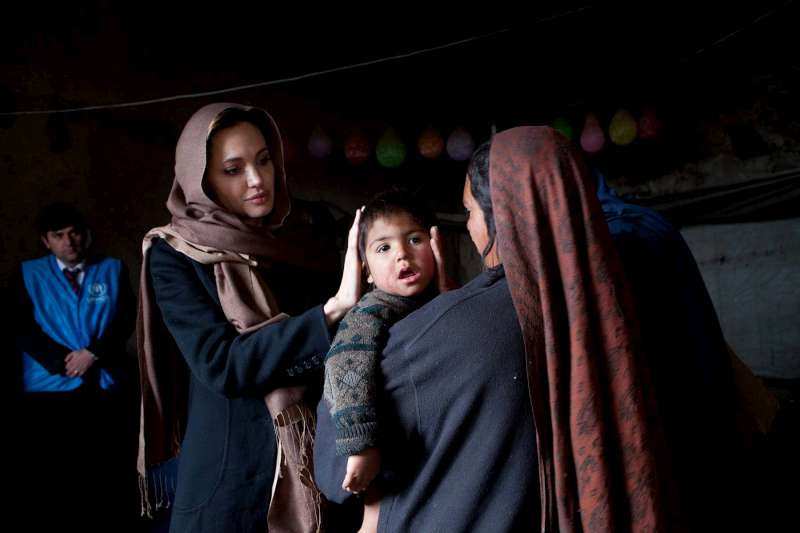 Above is a photo of Angelina Jolie in Afghanistan on a UNHCR goodwill mission, attempting to highlight the issues of Afghan refugees who have returned to their country after years of living in exile (mostly in Pakistan). Here's the UNHCR's press release regarding Jolie's statements in-country:
KABUL, Afghanistan, March 2 (UNHCR) – UNHCR Goodwill Ambassador Angelina Jolie on Wednesday called for greater focus to be put on the reintegration of former Afghan refugees as she wrapped up her second visit to the western Asian nation. During her two-day trip, the acclaimed actress met internally displaced people and refugee returnees still struggling to survive and reintegrate almost 10 years after returning to Afghanistan from years of exile.

More than 5.5 million refugees have returned since 2002, mainly from Pakistan and Iran, and now make up 20 per cent of the population. UNHCR is concerned that too many of these former refugees continue to live without jobs, shelter and other basic needs.

"It's clear travelling through the country that what needs to be done is a very focused approach in places of return. We need to revisit the idea of what return is and the difference between just returning and reintegrating," said Jolie, who last visited Afghanistan for UNHCR in 2008. "The focus needs to be put now on reintegration, and that means not just putting up shelter but making sure there is water, job opportunities, a school for the children and medical clinics," she added.

On Wednesday, Jolie returned to visit families living in a dilapidated warehouse in Kabul that once served as a storage facility for the national bus company. The Tamir Mili Bus depot is now one of 30 UNHCR-identified sites in the Afghan capital where returned refugees and internally displaced people can live while they eke out a living.

The Goodwill Ambassador caught up again with Khanum Gul in the small damp room she shares with her husband and eight children. A UNHCR plastic tarpaulin covered a gaping hole in the front wall, providing some shelter from the wind and snow. On Jolie's first visit in 2008, Khanum had just given birth to her son Samir.

"It was very distressing to see that, because of the poor conditions, Samir seems to be suffering some form of developmental delay due to malnutrition or lack of medical care. He can't walk and is barely surviving in what can only be described as a very cold and damp warehouse," Jolie said.

Khanum's husband, Eshan, tries to earn a living as a daily labourer. He waits for hours every day but is rarely picked for work. The couple also support Khanum's ailing 70-year-old mother, Bi Bi Zamo Jan, who also met Jolie on her first visit.

"This old woman was so upset, because she feels like a burden. She watches her grandchildren go onto the streets every day to wash cars for a dollar a day so the family can eat. Often they earn nothing," Jolie said. "Everyone I have met on this visit has been very clear. The Afghan people don't want to become beggars. They want the opportunity to work for a living with dignity so they can provide for their families."

The day after arriving on Monday evening, the Goodwill Ambassador travelled to the village of Qala Gadu, which lies north of Kabul on the Shomali Plain, the scene of fierce fighting during successive waves of conflict in Afghanistan since the late 1970s. Among the 2,500 families in the area, almost everyone is a returned refugee or was internally displaced before 2002.

Jolie met a group of young girls who will study at a new primary school that is being built in the village with funding from the actress. She also paid for a school in the remote returnee settlement of Tangi in eastern Afghanistan's Nangarhar province. The girls in Qala Gadu currently study next to the local mosque. The lack of a proper classroom means most girls can't study beyond 4th Grade.

Ten-year-old Sahira presented Jolie with flowers on behalf of her classmates, saying: "If you build this school, I promise I will work really hard and study until the 12th Grade."

Sahira, who wants to be a doctor when she grows up, is the youngest of five daughters and the first of them to attend school.

UNHCR is currently rallying support from donors and humanitarian and development agencies to redouble efforts to help returning refugees integrate in Afghanistan.
[From UNCHR Press Release]
In addition to speaking out on Afghan refugee issues, Jolie went topical and discussed the unfolding refugee crisis in Libya – beyond the fact that there are Libyans who want to leave their country because of the bloody and violent situation, there are thousands of African migrant workers who are trapped in Libya, and there is no mechanism for the Libyan government to provide support for the stranded workers, and the UN is having serious problems getting in-country. In addition to the Libyan crisis, Jolie also spoke about the Côte d'Ivoire refugee crisis (I have to admit, I hadn't heard about that one):
"As we witness these newest crises unfold in west and north Africa, it is critical that all parties respect the fundamental right of people in danger to flee to safety – whether civilians caught in conflict in their own country or refugees and asylum seekers caught in new conflicts," Jolie said. "All I'm asking is that civilians be protected, and not targeted or harmed."

In Côte d'Ivoire, fierce fighting in the Abobo district of Abidjan and clashes in the west over the past few days have blocked access for humanitarian organizations and brought the country perilously close to all-out civil war. Thousands of people have been displaced in Abidjan, Côte d'Ivoire's commercial hub, and refugees have been streaming across the country's western border into Liberia in unprecedented numbers. Eastern Liberia is already dealing with more than 70,000 Ivorians who have arrived there since the presidential election of late November.

At the same time, UNHCR is worried for thousands of refugees, asylum-seekers, and irregular migrants still inside Libya and in circumstances of considerable danger. Few of these have been able to make it out of Libya and into either Tunisia or Egypt – where most people leaving the country have been heading. On Tuesday, UNHCR said it was particularly concerned for sub-Saharan Africans who have become vulnerable because of suspicions that they are foreign mercenaries. Amid chaotic scenes at the Tunisian border, UNHCR also issued a joint appeal with the International Organization for Migration for a massive humanitarian evacuation for people fleeing Libya into Tunisia.

"With these new waves of uprising and conflict, there is and will continue to be massive new displacement. The world needs to address this moment. We have to give people safe passage, evacuation if needed, and ensure they have asylum. We don't want to look back and find their deaths are on our hands," Jolie said.

"As the world's attention shifts to the newest refugee crises, we need to remember that if we don't support people in the long term to really get back on their feet – to feed, shelter and educate their families, to earn a living with dignity, and to participate in meaningful ways in their societies – we will see a continued cycle of instability and new crises," Jolie said.
[From UNHCR Press Release]
Once again, here is the donation page for the UNHCR. I'm not saying you have to donate or that you should or whatever. I'm just handing out information.
Here's video of Jolie in Afghanistan today, making her appeal: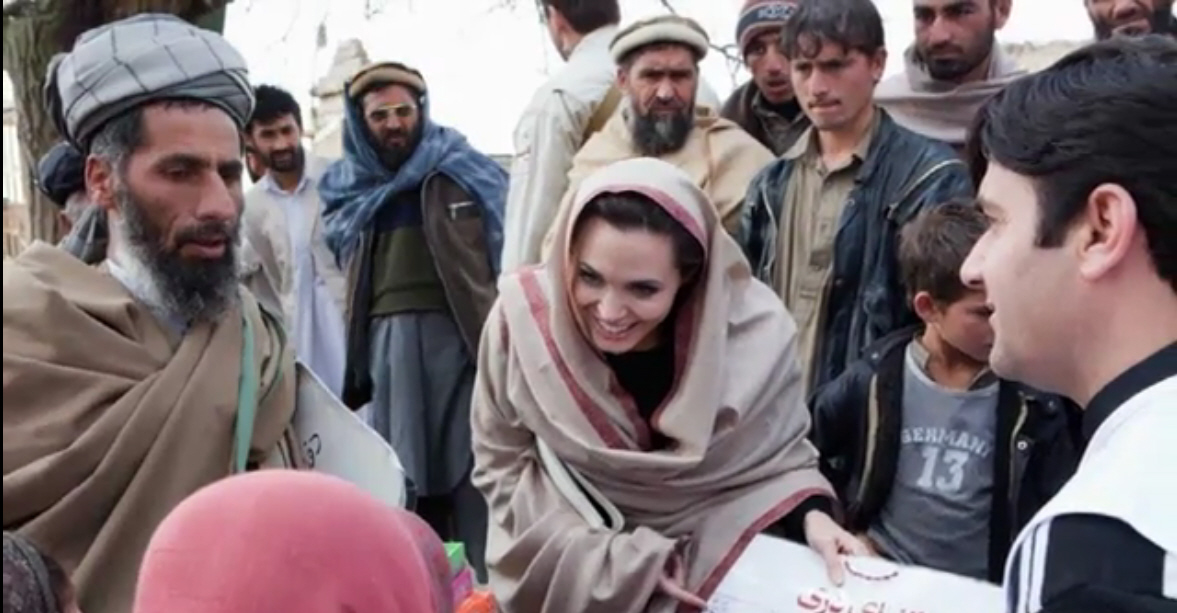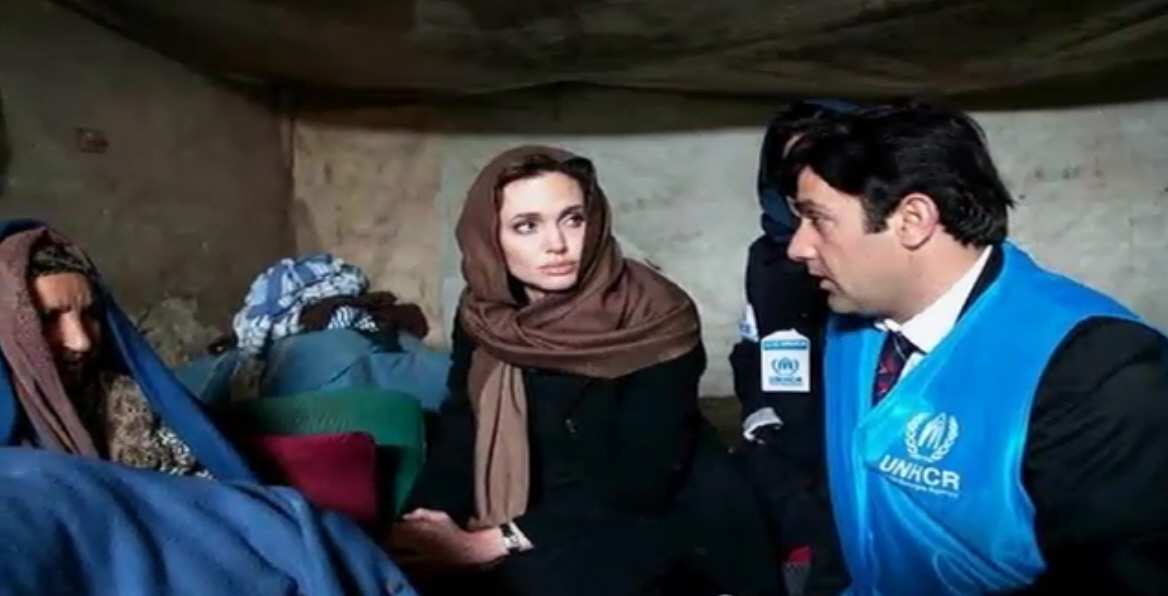 Photos courtesy of the UNHCR.