Did you know that James Franco was on Twitter? He is. And he's so "artsy". He's so "deep". He twit-pics photos of poems. FOR REAL. And he also twit-pics photos of himself, Portraits of The Artist As A Douchebag. Anyway, "The Artist" has yet to rise to his own defense in the wake of his stoned, lazy, pathetic performance as co-host of the Oscars. His rep issued a statement the other day, but Franco hasn't said anything, or tweeted anything… until a student journalist at Yale wrote a piece mocking Franco's Twitter (not his Oscar performance). So Franco tweeted this (NSFW language):
So, so clever. Here's more from PopEater:
James Franco who joined Twitter just two weeks ago to help promote the Oscars, is now using the site to defend himself against haters — namely a fellow student at Yale — who skewered him not for his maligned performance on Sunday, but for his style of tweeting.

"James Franco, your Twitter sort of sucks," Yale Daily News writer Cokey Cohen posted Saturday. In her article, Cohen argued that the actor should do more than post "random links to pictures and replies to celebrities." The writer suggested James be more "pithy" like Kanye West.

The critically acclaimed star of '127 Hours' has so far been silent on criticism he was sluggish and even stoned during the Oscars on Sunday. He also hasn't commented on reports that he and co-host Anne Hathaway grew to hate each other. (They looked chummy backstage!) But on Tuesday, James posted an image of himself overlaid with the words "F**K THE YALE DAILY NEWS" in red capital letters.

Cohen told The New Haven Register that her critical blogs of the star's posts were "tongue-in-cheek" and that were supposed to be all in good fun. She says she's actually a big fan of the actor.

"It's funny how James couldn't really care less about what anyone had to say about his performance, but went crazy after a writer at his campus newspaper criticized his Twitter page," a friend of the star tells me.

I'm told that James had simply "had enough," that it's one thing to be called one of the worst Oscar hosts in history but another to get a lesson from a fellow student on how to conduct himself online. In case you were wondering, James is pursuing a doctorate in English at the Ivy League school.
[From PopEater]
The student journalist gave an interview where she said that her pieces about Franco were "tongue-in-cheek" and that she and Franco were just responding to each other all in good fun. I think for her it might have been fun or funny, but I wonder if that was Franco's goal. I really, really think that Franco thinks his whole life is Performance Art, and that the people who criticize him just don't "get" ART and how BRILLIANT he is. Douchebag.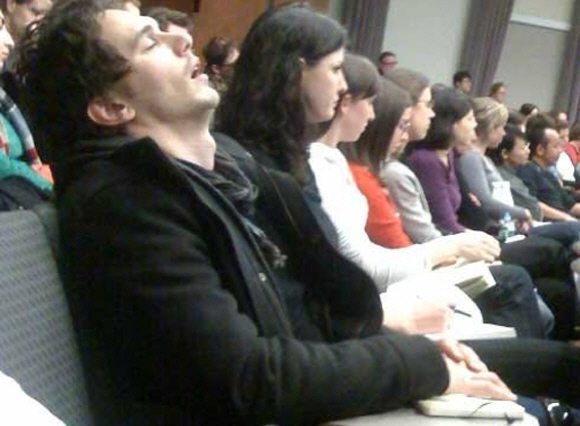 Photos courtesy of Franco's Twitter.