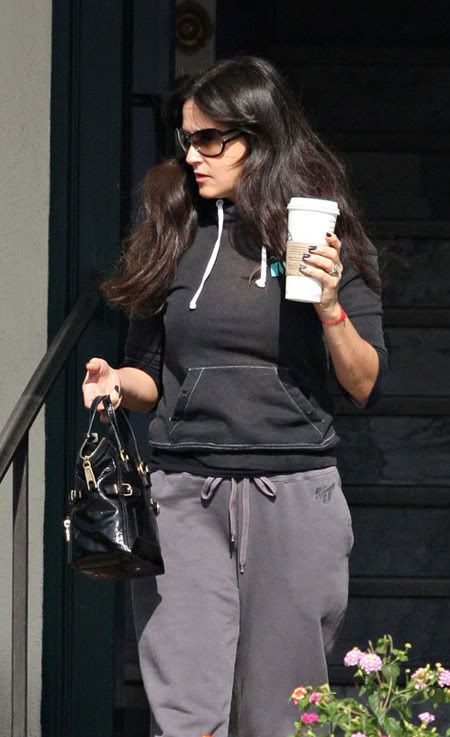 Tabloids are screaming about actress Demi Moore's sudden, drastic weight gain based on one single photo of her wearing a baggy sweatshirt and sweat pants. The National Enquirer is estimating that Demi has "packed on 15 pounds in 4 weeks," while the Daily Mail gasps that she's "put on a STONE in a MONTH," jumping from 115 to 130 pounds. Oh, no! Of course, the only photographic proof that any of these tabs have to support this is the same picture – which doesn't look all that bad, really.
Demi Moore has piled on more than a stone in a month after relaxing her strict diet and exercise regime.

The Striptease actress' s weight has reportedly increased from 115 to 130 pounds.

'Demi feels beautiful,' an insider told America's National Enquirer. 'She's struck a perfect balance between too much and not enough with diet and exercise. And as a result, she's a little fuller and rounder.'

Demi normally keeps her 5ft 5in body in perfect shape, looking decades younger than her 45 years.

Over the years she is reported to have undergone various cosmetic procedures to keep her beauty at its peak, including breast enhancement, collagen injections in her lips and a knee lift.

But her new and more relaxed attitude to her body is said to have been inspired by her wish to set a good example to her three daughters.

'Her oldest daughter Rumer went through a period when she was obsessed with being thin,' reported the Enquirer. 'That made Demi rethink what it means to be healthy.

'Demi is happier being a little heavier, and she wants her daughters to embrace a "beauty comes in all sizes" attitude as well.'
If it's true, good for her. But I don't think it's true. I think the normally well-put-together actress just stepped out one day in baggy clothes and someone took her picture. In the photos of Demi taken last month for the premiere of her daughter's movie, "The House Bunny," she looks the same as always. I guess when there's no juicy news about an actress, the first thing the tabloids do is go for the weight.
Demi Moore is shown outside a nail appointment in Beverly Hills on 9/16/08. Credit: ODuran/Fame Pictures