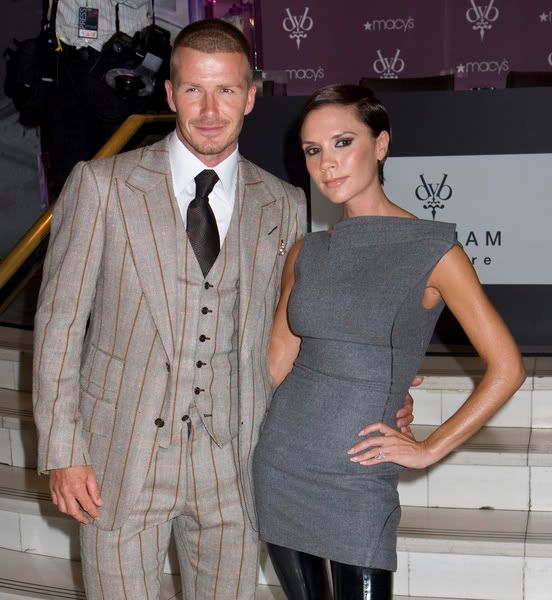 Victoria and David Beckham still have the magic, at least if her interview with Kelly Ripa is to be believed. Which it probably is – the most intimate thing Posh revealed is that she still thinks David is hot. Which means her eyesight is fine, so that's good to know.
But Victoria admitted that after "all this time" her stomach still flips when she sees him. Which – even though he's unbearably attractive – is still really cute. You'd think it'd be hard for any woman's stomach not to turn into a ball of butterflies seeing that man, but marriage can kill a lot of good feelings, so I'm told. So I think it's pretty sweet that Victoria seems to still be smitten with David.
VICTORIA BECKHAM says she warns husband DAVID that his good looks will fade. POSH said on a US talk show: "We really complement each other. Everyone says, 'God, David is so good looking' and I'm funny. It's cool to be funny. I tell David that looks will fade."

Host Kelly Ripa asked Victoria, 34, if she still gets "that feeling" in the pit of her stomach when she sees David, 33. She replied: "Yeah, I do. We spend a lot of time together, we go on date nights, we go away together, we love our kids and everything we do revolves around the children."

She added: "I love him more now than I did when I first met him all those years ago."
[From the Sun]
The Beckhams have dealt with several rumors involving David's supposed infidelity. No one exactly came out looking like roses in that situation, but it seems like their marriage is okay now. Of course it's always hard to even guess what's going on in a couples' relationship. But they seem pretty content and happy, and their lives really do seem to be focused on their kids. Posh noted that all three of her sons are getting American accents, which she thinks is cute. It looks like they've all adjusted to their move to the U.S. pretty well. Overall they're darn lucky: hot husband, hot wife, and cute kids with parents that still seem to be into each other.
Here's David and Victoria launching their "Beckham Signature" fragrance collection at Macy's in New York yesterday. Images thanks to PR Photos.